Caedmon's Call: Will This World Record Break You?
Jay Swartzendruber

CCM Magazine

2005

18 Jan

COMMENTS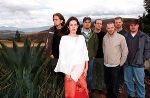 If you were to take a quick glance at Caedmon's Call's impressive track record since the group's inception 12 years ago, you might assume this talent-filled band had discovered some formula for success. After all, even before signing its first major label deal in 1997, the popular independent band had sales in excess of 40,000 albums. Then Caedmon's first label release sold more copies its first week out than any Christian market debut prior. And while going on to log 1.5 million albums in career sales, the band — which includes Cliff Young (vocals, guitar), Danielle Young (vocals), Andrew Osenga (vocals, acoustic/electric guitar), Josh Moore (keys, B3, accordion, harmonica), Jeff Miller (bass), Todd Bragg (drums) and Garett Buell (percussion) — has landed 14 top five Christian radio hits (half of which went No. 1) and taken home multiple Dove awards.
The group's secret? "Caedmon's is unique in that if there were ever any normal way to do things, Caedmon's always did it the other way. We did everything backward. That wasn't necessarily intentional; that was just the way we worked," says Bragg.
Take the band's songwriting history, for instance. Songs that have made the final cut and appeared on Caedmon's Call albums often started with relationships first and then passed creative muster. Most notably, founding member Aaron Tate quit performing with Caedmon's years before the group signed its first record deal, yet he remained one of the band's principal songwriters over the course of several releases. Even on Caedmon's new album, "Share the Well" (Essential), the group's 14th release, independent artist Randall Goodgame was welcomed as a writer or co-writer of seven songs, including the title track.
"We always put the songs on the albums that we felt were the strongest — whoever wrote them," says Bragg. "And so there was never a formula or a calculated quota that we had to meet.
"Randall's an incredible writer," he continues. "He's one of the only writers I know who can really take a song and write it for somebody else. And that's really hard to do with Caedmon's because it's its own monster. For him to do that — and it to work so well with what we do — has just been an amazing thing to stumble across. And he actually traveled with us to work on this album."
Traveled? Do we mean this Texan seven-piece band simply packed up and flew to Nashville for two or three months of studio time or set up shop in Los Angeles or New York to record?
Well, what do you know about "world music"?
World music is one of the only styles of music that's actually described literally by its given name. (Think about it: What do "rock," "pop," "country" and "classical" actually mean?) World music is, indeed, music that spans the globe — music with rhythms, instruments and vocal stylings that are distinctly native to a specific region of the world.
While Christian artists such as Andraé Crouch and Paul Q-Pek (of One Bad Pig fame) have occasionally tested the waters of world music, Caedmon's Call is the first Christian artist to take the whole-hearted plunge, recording "Share the Well" with Christian musicians in India, Ecuador, Brazil and Stateside on the band's home turf. The result? In addition to being the Christian community's first real world music album, "Share the Well," which released in October, may just be the most incredible Christian market release of 2004. Certainly, it's hands-down the most ambitious.
"The reason we wanted to do a world record originally was because of the music," explains Cliff. "We loved the Indian influence — the tablas (drums) and all that kind of stuff — and the Brazilian music, the percussion; and [we wanted to] incorporate those things into our songs."
"We've had a vision for a world album for years," affirms Bragg. "We've always just liked different kinds of music, and Garett [Buell] would always have all these random artists — different world musicians — he would let us hear and turn us onto."
But creating the culturally vibrant album wouldn't be the half of it. Caedmon's Call was about to encounter an international dilemma—an ancient curse that, to this day, remains one powerful government's guarded secret.
"I think it was Todd, three or four years ago, who suggested that we could incorporate Compassion International and some of the needs of these countries into this record," recalls Cliff. "And everyone was like, 'Why didn't we think of that?' That was before we really knew about India."
Knew about India?
"There's a progression that happens," explains Cliff, peering out from under this week's resident ball cap. "First, you hear [a culture's] music, and you get into the music. You like the way it sounds, and then you see it in concert and are like, 'Oh, wow … That's what he's playing — that's interesting.' And then you kind of start getting into the culture, where it came from, why they play that instrument, who plays it. And then, inevitably, as you're getting deeper, you start getting into the needs and the issues in those countries. And that's how it progressed for us. So, for India, it started because we love the tablas and the way they sound. Then when we started hearing about the needs there, we would talk about India and play tablas in the show.
"After hearing us do that during a concert in North Carolina, this guy came up to us and was like, 'My name's Timothy. I'm from India, and I'm a Dalit.' I was like, 'What's that?'"
For Cliff and the rest of Caedmon's Call, class was now in session.
Timothy went on to explain that openly discussing the true plight of Dalits with people from other countries is considered extremely taboo in Indian culture — especially by those in power. To examine the background and current lifestyle of Dalits is to open the door for troubling insight into India's Hindu religion.
India's social system is set up in four castes with the "untouchables" (Dalits) — 25 to 35 percent of India's population — considered as beneath any caste. Says Cliff, "There are more than 250 million Dalits in India — in other words, about as many of them as there are people in the United States. This has been going on for 3,500 years. Dalits are treated like animals. They have no access to temples. And in schools (when they are allowed to attend), Dalit kids sit on the floor in their dirty clothes, while the upper caste kids are sitting in front of them at desks in coats and ties. Dalits have no access to wells — they are not allowed to dip their own buckets in and draw water themselves because they'll 'pollute' the well. They have to wait indefinitely, hoping for someone to come along who's willing to draw water for them."
Even in today's "modern" and "advanced" Indian culture, Dalit men and women are sometimes spontaneously beaten to death for daring to sneak water themselves. (A true story of this occurrence is the inspiration behind the album's title.) It's hard to fathom this taking place in a country that's one of the world's "nuclear powers."
Since the word Dalit literally means "oppressed," most Indians who are privileged enough to be born into the caste system refuse to call the untouchables "Dalits." Because of what their Hindu faith teaches, they believe the untouchables are not oppressed. Rather, they are convinced that the staggeringly difficult lives of the Dalits are actually deserved. Remember: A core belief of the Hindu religion is reincarnation. Hindus in India believe if you were born into a Dalit family, then, obviously, in your previous life, you were not a good person and are now getting exactly what you deserve. Sadly, millions upon millions of Dalits who are practicing Hindus also believe this lie about themselves.
Says Cliff, "You hear all this stuff, and you're going, 'Man, this is awful — I can't believe this.' But then to realize how many people there are, to realize that there's finally an opening for [another] religion of any sort … It's a total social movement. To them it's like black and white — there's Hindu, there's Islam, there's Buddhism, there's Christianity [to choose from]. They had Muammar al-Gaddafi from Libya fly Dalit leaders over from India to try and convince them that Islam is the way to go. Then you have Buddhist people coming over saying, 'This is the way to go.' In Christianity, you have people saying, 'This is the way to go.' The Dalits literally sit there and go, 'We have a choice — it'll be Buddhist' or whatever. It's just totally different from us.
"When we were in India, we went to a meeting called 'Meeting with the King' outside of Lucknow (city in the north central region of the country), and there were 10,000 Dalits there. They had been literally told, 'Come meet with the one true God. Come meet with Him. Come and hear.' That's it, and 10,000 people showed up outside in 110 degree heat. I got to speak to them — preach to them, and we got to play music for them.
"The reason Operation Mobilization and the Dalit Freedom Network are getting involved in these things is because Dalits are deciding to come to Christianity by 2,000 people a day. And these (ministries) are then going to them personally and really sharing the gospel and connecting them with churches."
"The bottom line is, the gospel is the only answer. I mean, Jesus and the woman at the well … What Jesus did was give her water to drink, to an 'unclean person,' to someone a Jewish person is not supposed to talk to — a Samaritan. And then the living water. So, we're called to meet an immediate need first — live the gospel first — and then preach the gospel — living water. But, ultimately, the gospel is the only answer. We're involved in building a lot of wells now with an organization called Living Water."
"The answer to their social problems is the gospel," affirms co-lead vocalist Danielle, whose gentle, easy-going tone is a contrast to her husband Cliff's energetic, sometimes rapid speaking.
"It's very popular for Christians not to think that today," says Cliff, "because Christians have preached the gospel without living the gospel for so long."
During last year's one month trip to India, Ecuador and Brazil, Caedmon's Call members traveled with portable recording equipment, writing songs as they went. In some cases the musicians they worked with traveled from as far away as a three-day journey by train, standing the duration of the trip, to record with Caedmon's. A third of the way through the stunning result, Caedmon's "Share the Well" album, listeners encounter the stirringly beautiful lament "Mother India." The song was co-written by Osenga, who became a member of the band two years ago after serving as the front man of former Forefront rock act The Normals.
"Father, forgive me, for I have not believed/ Like Mother India, I have groaned and grieved/ Father, forgive me, I forgot your grace/ Your Spirit falls on India and captured me in your embrace."
"That chorus is very much reflective of me going to India and going, 'OK, this country doesn't believe in You. And when I look at it and I look at my life, a lot of times, neither do I,'" reveals Osenga, who had a hand in writing six of the album's tracks. "Through the experience of me seeing what was going on in India, watching God just really move there, reinvigorating the church ... because of just seeing it, there was a renewal in my own life."
The second verse of "Mother India" contains the haunting lyric: "The serpent spoke and the world believed its venom/ Now we're ten to a room or compared
to magazines."
"Because [mankind has] believed the lies," says Osenga, "we have 10 people living in a room [in India]. And then on the other side of the world, we're just comparing ourselves to magazines. [Both cultures] are completely alienated, and they are both miserable.
"To me that's kind of one thought because I've believed those lies. And so has the government of India. And however the lie takes shape, it's the same lie — that we're putting our hope in something other than the truth of Christ."
The power of this lie in India has been slowly undermined over the years. Marcus Chacko, one of three world musicians performing with Caedmon's on the band's current tour, is a Dalit. He explains how he came to be born into a Christian home. "My grandparents actually used to worship the sun, moon, the nature," says Chacko. "They had their own gods, but my clan belonged to the magician clan. They used to live in the hills and just enjoy the nature, worked there and tilled the ground and made flutes and other things from the forest. That is how they used to live. Anglican missionaries came to India, and they did a lot of charitable social service for the poor people who were working the land as laborers. Our people were obliged to the charity of these missionaries. That is how they were first attracted to the gospel. When these missionaries preached the gospel, my grandparents were attracted to that."
So if this tragedy is happening to so many millions and has been perpetuated for so long, one can't help but wonder: What about the United States government — what's its role in all this?
Recalls Danielle, "When Emmanuel (Singh), our tabla player, was having trouble getting his work visa to come over from India, we ended up having somebody we knew, a congressman, write a letter to their government trying to encourage the process along. One of the responses from one of their government leaders was, 'Why would a U.S. Senator care about this guy — an untouchable?' What a statement that would be to all of India for Americans — Christians, in particular — to say, 'We care about these people. They are worth our time, money, effort, everything.'"
"Most [of our government leaders] don't know this is happening," adds Cliff. "They don't believe it. I mean, the second largest foreign lobbyist group in Washington, D.C., as far as the amount of money, are the upper caste Indians. They've got hundreds of millions of dollars coming out. Like when National Geographic — about a year ago — did a cover story all about the Dalits. It was the cover of National Geographic, and it was just pushed aside. They told people in D.C. who confronted them about it, 'Oh no, no, no … It's not true — it's not happening.' And the leaders in India told their own people that National Geographic was a missionary magazine — 'Christian propaganda.'"
A few hours after this interview, Caedmon's Call takes the stage before a capacity crowd of 1,200-plus. Strategically located a half hour's drive from three different colleges, the First Baptist Church of London, Ky., proves to be an ideal setting for a Caedmon's concert. This stop, part of the group's 30-city "Share the Well" tour, reveals a seasoned band that has not only retained the vitality of its youth but managed to actually increase its sheer intensity of performance along with the skillful artistry nurtured by years of experience.
"In India you have almost 300 million people who have been kicked aside and stepped on; and, yet, it's the worst-kept secret in the world," Cliff says from stage as he starts to bring the audience's first night of Dalit awareness to a close. "They're desperate. What are we going to do as the church?"
Reminding the crowd again of the Bible's commands to care for the poor, he says, "We're not just called to preach the gospel; we're called to live the gospel."
On their way into the venue, audience members had passed an impressive set-up in the main lobby. In explaining how they could respond, Cliff tells the band's fans about each opportunity. First, there's the booth for the Dalit Freedom Network (DalitNetwork.org). This Indian Christian organization builds schools for Dalit children, improves medical assistance and economic development for Dalits and champions their human rights. The second booth features internationally made pillows, handbags, quilts and jewelry sold by the Bajalia Trading Company (Bajalia.com) with all proceeds going towards "earthquake rehabilitation and economic development for third world artisans." The third table highlights Caedmon's longtime partners Compassion International (Compassion.com), the Christian relief organization that helps more than 600,000 children in more than 20 countries through individual sponsorships. The final section is, of course, the place were fans can purchase Caedmon's Call's merchandise.
Cliff gives his audience tangible ways they can respond by connecting with one or more of these organizations. "You can commit to praying for the Dalits," he says. "You can commit to giving money to help out. You can commit to starting awareness groups in your area — raise awareness about the Dalits. You can even take a missions trip over there."
And in a move that's not as common as it should be for Christian artists in a concert setting, Cliff instructs — more like orders — his band's fans, "Before you go to the tables with our CDs and T-shirts, go and check the other tables. If you're not involved in this in one way or another, you need to get involved."

Photos by David Dobson
© 2005 CCM Magazine.  All rights reserved.  Used with permission.  Click here to subscribe.