CCM Hall of Fame: Larry Norman
Michael Ciani

CCM Magazine

2004

5 Feb

COMMENTS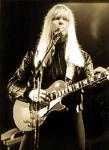 Larry Norman is widely accepted as the "father of Jesus rock." In 1969, nearly a decade before CCM was founded, Norman was signed to Capitol Records (home to The Beatles and The Beach Boys), where he created "Upon This Rock," a groundbreaking work believed to be the first "contemporary Christian music" album ever made.
Rock and subsequent albums earned Norman mass acclaim as a truly brilliant artist and songwriter, his plaintive, often haunting voice communicating his Christian faith with clarity and conviction. Norman has described himself as singing for the "disenfranchised," using "abrasive humor and sarcasm" to reach a generation upended in a politically and culturally tumultuous time in our nation's history. (He once proclaimed, "Christian music isn't supposed to be polite. It's supposed to be relevant.")
Publications such as Time and Billboard took notice of his relevance, as did the mainstream press in the many international destinations where Norman toured, including Lebanon, India, Hong Kong, Finland, Poland and the former U.S.S.R. Norman sang at such prestigious venues as The Hollywood Bowl, The Sydney Opera House, Royal Albert Hall and The White House, all at a time when Christian music barely made noise outside its own world. His fans over the years have included mainstream rock luminaries as notable as Frank Black (of The Pixies), the man often credited with instigating the alternative rock revolution of the early '90s.
In addition to his classic releases for Capitol and MGM, Norman has recorded for his own Solid Rock Records for three decades and has also released several projects on Phydeaux, another indie label he birthed. While at times a highly controversial figure among the music community, Norman's impact on the fledgling Christian music scene is difficult to overstate. He has worked regularly as a producer and, in various ways, personally influenced the careers of many ground-breaking young artists, including Randy Stonehill, Keith Green, Steve Camp and Mark Heard.
Today, Norman lives in Oregon, where his Solid Rock Records still operates. He suffers from poor health, and a medical trust fund set up to assist with expenses not covered by his limited insurance helps him receive the treatment he needs.
Last October he performed a concert near his home to celebrate his 45 years in music, although "no other concerts are scheduled for the future," according to his Web site. At press time he was reportedly working on a new album entitled "Sessions."
Though his most renowned work was produced more than a quarter-century ago, Norman's enormous impact continues to be felt by new generations of Christians. In 1995, ForeFront Records released "One Way: The Songs of Larry Norman," a tribute album that featured dc talk, Audio Adrenaline and Rebecca St. James, among many others. And in 2001, Larry Norman was inducted into the Gospel Music Hall of Fame.

CCM Covers
March 1981 "Strange Visitor From Another Land, Fighting for Truth, Justice and the Christian Way"
June 1989 "20 Years After Upon This Rock"

Essential Larry Norman
"Upon This Rock" (Capitol 1969):
Referred to by some as the "Sgt. Pepper's of Christianity," referencing one of The Beatles' masterpieces.
"Only Visiting This Planet" (MGM/Verve 1972):
"Transformed the generation to follow" is how CCM critics described this album's impact in 1998 when choosing this as No. 2 in the "Top 100 Albums of All Time" category.
"In Another Land" (Solid Rock 1976):
Also in 1998, CCM's critics described this as "a fascinating journey through the mind of an iconoclastic genius" when honoring it as one of the "Top 100 Albums of All Time" category.
Note:  These and many other Larry Norman titles are available through  LarryNorman.com.

Some of Larry's most well-known songs …
"Why Should the Devil Have All the Good Music?"
"I Wish We'd All Been Ready"
"Why Don't You Look into Jesus?"
"The Rock That Doesn't Roll"
"Sweet Song of Salvation"
"The Outlaw"

© 2004 CCM Magazine.  All rights reserved.  Used with permission.  Click here to subscribe.