CCM Readers' Choice Awards 2006
Michael Nolan

CCM Magazine

2006

14 Feb

COMMENTS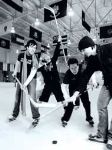 Your Favorite Artists:  Captured in their Natural Habitat
It's that time of year again, the time when you expect to see a lot of very familiar faces as the top vote-getters in our Readers' Choice Awards.
And you will. But there's a new breed of artists who is changing the terrain, resulting in some genuinely unexpected winners.
So how to keep these annual awards fresh? Well, there's been a whole lotta shakin' going on.
We shook up the survey by adding some fun new categories. You shook up the polls with your selections, sometimes choosing artists who've never reached the top before. …
FAVORITE NEW ARTIST:  Hawk Nelson
2. The Afters
3. Krystal Meyers
JUST CHILLIN' … The guys in Hawk Nelson are Canadian so they're required by law to love hockey. "Jason is a Calgary Flames freak.  He has everything from the team jerseys to the matching sleeping bag and pillowcase. He even has a genuine Calgary Flames tuque," reports bass-man Daniel Biro. "The rest of us are into the Toronto Maple Leafs."
But they're not just fans, they're players (especially of street hockey), and they've got the war stories to prove it.
The year 2005 was a real hat trick for Hawk Nelson because every little thing they did went right. They won tons of new fans (enough to score our February 2006 cover photo), rocked up the radio playlists and even hit both the tube and the big screen (see "Most Likely to Go Mainstream" below).
But their greatest accomplishment? "Staying together through good and bad," says Daniel.
Speeding ahead to April, you can face-off with their new album, "Smile, It's the End of the World."
FAVORITE GROUP:  GRITS
2. ZOEgirl
3. Avalon
TOP VINYL-ISTS … These eloquent elocutionists (look it up) aren't just music makers; they're music lovers. Bonafide (aka Teron Carter) tells us, "I can honestly say I go faithfully to the record store or one of the retail chains once if not twice a week." And his partner Coffee (aka Stacy Jones) admits that he recently pared down his collection to about 2,500 CDs. "I had to get rid of some of them. It was getting out of control."
The year 2005 goes down as a year that GRITS was definitely in control. The duo's video "Hittin' Curves" hit the Dean's List at MTVu, they've been cookin' in the studio and on the road, and "Dichotomy B" got a GRAMMY nom for "Best Rock Gospel Album." (Rock?? Go figure).
They also came out of nowhere to stand on the top of the stacks in our polls -- the first time a straight-up hip-hop act has conquered pop for Favorite Group.
Looking ahead: "We are putting together a very special album just for the fans that will release around March/April simply titled "7," which not only stands for spiritual completion but represents our seventh release," offers Teron. "And we are also working on a brand new record — all new stuff — for release in the spring of '07."
FAVORITE BAND:  Third Day
2. Casting Crowns
3. MercyMe
FAVORITE LIVE PERFORMANCE:  Third Day
2. Superchic[k]
3. tobyMac
THIRD DAY IN 3-D … Sure, those big tour buses look roomy from the outside but it makes for close quarters when the guys in Third Day squeeze together for a little filmfest. And they log plenty of movie-time because last year alone they performed 68 Third Day concerts, plus special events.
But their film picks might surprise you. "We love offbeat documentaries," divulges Mark Lee. "The truth is usually stranger than fiction."  Recent favorites include "Off the Charts" (about the song-poem industry) and "Okie Noodling" (about fishing with your bare hands). "And pretty much anything featuring Will Ferrell."
Even though they've been together for more than a decade, there are no signs of them slowing down. Their fast response to those affected by Hurricane Katrina set the benevolent pace for other artists. Their new album, "Wherever You Are," sold faster in its first week on the street than any of their previous releases and has garnered busloads of praise.
With a mega-tour rolling out in February, they'll be stocking up on DVDs and heading to a venue near you … wherever you are.
FAVORITE FEMALE ARTIST:  Rebecca St. James
2. Bethany Dillon
3. Nichole Nordeman
REBECCA ST. JAVA … Apparently voting for Rebecca has become habit-forming. You've named her your Favorite Female Artist in every CCM readers' poll since 2001.
You ardent fans waited somewhat patiently for the release of her first studio album in almost three years (November's "If I Had One Chance to Tell You Something"), but throughout, your love for her has remained as strong as her passion for caffeine.
"I used to be a high-maintenance coffee drinker. A 'grande non-fat milk, sugar-free vanilla latte' was my drink of choice," confides Rebecca. "Now my life is much simpler. I am a 'non-fat-cappuccino' girl. Bring on the foam!"
She'll have to get that "cap" to go and leave her bike (a favorite "down-time" hobby) behind as she rolls into a big year which includes a trip to Rwanda to film a TV special for Compassion International, a spring tour with BarlowGirl, co-hosting the GMA Music Awards with Kirk Franklin and a European tour. And that's just in the first six months of '06.
FAVORITE ARTIST:  Jeremy Camp
2. tobyMac
3. Mac Powell
FAVORITE MALE ARTIST:  Jeremy Camp
2. tobyMac
3. Chris Tomlin
CAMP MEETING … In addition to spending personal time together at home, lately Jeremy Camp and his wife Adie (aka Adrienne, former lead singer of The Benjamin Gate) have been meeting professionally in the recording studio. He and Zach Hodges are currently co-producing her solo album debut while she has her own production underway with their second child due this spring.
"It has been really exciting to see Adie singing again," says Jeremy. "We had been praying for awhile, and were not even sure if this was what the Lord wanted. Things just started to fall into place and we felt a peace about everything."
So how's this professional relationship working out? "There for sure have been some different dynamics. You have two musicians and two opinions and to top it off you're married. It has been really fun though. I might be a little biased, but I think she's the best."
By the time you read this, all three of Jeremy's studio albums will be certified gold; now we'll see if he can lend his Midas touch to Adie's music too. Look for both of their new albums as well as Jeremy's tour this fall.
FAVORITE WORSHIP LEADER:  Chris Tomlin
2. David Crowder
3. Darlene Zschech
FAVORITE SONGWRITER:  Chris Tomlin
2. Mac Powell
3. Jeremy Camp
CHIPS AHOY … Just how much does Chris Tomlin love Guero's Taco Stand in his hometown of Austin? He frequently makes detours on his route home from the airport to scarf up the chicken fajita tacos, chips and queso and iced tea at this family-owned business.
 
"Austin is a great city for Tex-Mex and Guero's is such a good place to hang with friends and catch up on life ... it's a very relaxed place," explains Chris. "Plus, I have never been much of a white table cloth kind of guy."
Last year was indescribably good for Chris. He logged lots of miles touring with his pals Louie Giglio and Matt Redman, was the most played artist on Christian radio for 2005 and had three, count 'em, three songs in radio's top 20 at the same time. This year brings Passion '06 and a new recording due out in April.
FAVORITE HIP HOP ARTIST:  KJ-52
2. Grits 
3. the Cross Movement
You can't help but appreciate the in-your-face, self-effacing twisty turns of phrases delivered by this plain, white rapper. Give it up for a guy who used to have hair like Napoleon Dynamite.
FAVORITE INSPIRATIONAL ARTIST:  Phillips, Craig and Dean
2. Selah  
3. David Phelps
The year 2006 will mark Randy, Shawn and Dan's 15th anniversary of fine-tuning their harmonies to our delight. They remind us of Ecclesiastes 4:12: "a three-strand cord is not easily broken." The same can be said of their three-voice chords.
FAVORITE HARD MUSIC ARTIST:  pillar
2. Disciple  
3. Project 86
Pillar's last album asked the musical question "Where Do We Go From Here?" The answer, according to you readers, is "Anywhere you want. Just take us with you."
FAVORITE GOSPEL/R&B ARTIST:  Out of Eden
2. Kirk Franklin
3. Mary Mary
Girl power wins out as the Kimmey sisters, always big vote-getters, take the top in Favorite Gospel/R&B again! Their 2005 release, "Hymns," deftly demonstrated their vocal chops in a fresh new way.
FAVORITE ALBUM:  "Lifesong" - Casting Crowns 
2. Relient K - "MmHMM"
3. tobyMac – "Welcome to Diverse city"
What does the fastest-selling debut artist in the history of modern Christian music do for an encore? Come back strong with "Lifesong," Casting Crowns' second studio album, giving fans more of what won their hearts in the first place.
FAVORITE SONG – "Beauty From Pain" - Superchick
2. Natalie Grant - "Held"
3. Casting Crowns - "Lifesong"
Though most of Superchic[k]'s music is revved up enough to make you sweat, this piano-driven introspection clearly touched a nerve (and more than a few hearts). And what they sing is true, "I cling to your promise there will be a dawn."
FAVORITE SONG VIDEO – "Stars" - Switchfoot
2. Relient K - "Be My Escape"
3. tobyMac - "Gone"
You're definitely stars-struck by Switchfoot, giving an A+ to a video that takes lead singer Jon Foreman below sea level … but even an intense thunderstorm can't rain on the band's parade of rockin' riffs.
FAVORITE FESTIVAL:  Creation East
2. Cornerstone    
3. Spirit West Coast
You totally dig the bumper crop of music produced every year at The Agape Farm in Mt. Union, Pa. Joining 70,000-plus other fans, you stake your claim on some sod and soak up the annual celebration that's been rockin' since '79.
FAVORITE PRODUCER:  Aaron Sprinkle
2.Brown Bannister
3.Ed Cash
STAR-STUDDED-SUPER-STEP … Traditionally pop producers have prevailed in this category, but this year you voted to amplify the success of producer/engineer/recording artist Aaron Sprinkle, a former member of the band Poor Old Lu. Following critical praise for producing alt faves such as MxPx and Starflyer59, he's made noise among the masses for his work with Jeremy Camp, Kutless and Hawk Nelson. As you read this, Aaron and his new band Fair are putting the final touches on their debut album which will be released by Tooth & Nail in the spring. To check out the final mix of Fair's new song, "Carelessness," visit FairForever.com.
Trivial Pursuits
And now for a few ... shall we say ... niche categories. We asked, and you ... well ... you answered. Party on.
SHOULD MAKE A COMEBACK:  dc Talk
2. Jennifer Knapp
3. Petra
Not only does the dream live on, it lives strong among you Jesus Freaks who long to see tobyMac, Kevin Max and Tait once again as Toby, Kevin and Michael.
FAVORITE BOOK OF 2005:  "Blue Like Jazz" – Donald Miller
2. "Harry Potter & The Half Blood Prince" - J.K. Rowling
3. "Learning to Sing" - Clay Aiken
We exempted the Bible since it of course is the all-time favorite book, and that brought us to Donald Miller's gliding, beat-poet confessions that many people say is like reading their own journals.
DISTINCTIVE VOICE:  Mac Powell
2. Jeremy Camp     
3. Todd Agnew 
With the proliferation of bands over the past decade, it's easy to hear a song on the radio and ask, "Who was that?" You don't have to guess when you're hit with the grits-and-gravy growl of Mac Powell. You know it's Third Day.
WRITE A BOOK:  Jeremy Camp
2. Superchic[k]
3. BarlowGirl 
One thing's for sure -- he doesn't lack for material to write about. The only challenge would be getting Jeremy to sit still long enough to pen that many words. As you may know, he's just a little busy these days.
CONGENIALITY:  Rebecca St. James
2. Jeremy Camp     
3. Bethany Dillon 
Maybe it's that lilting Australian accent. There's a touch of high tea in her voice, but there's also wonderful amiability and graciousness in her life that makes Bec admired by her peers as well as her fans.
MOST UNDERRATED:  David Phelps
2. Superchic[k]     
3. Paul Colman 
If you need to be convinced of David's prowess as a vocalist, you haven't listened to songs like "Gentle Savior," "Behold the Lamb" or, slipping back to his days with the Gaither Vocal Band, "No More Night."
WHO WOULD YOU VOTE FOR PRESIDENT?:  Michael W. Smith
2. Steven Curtis Chapman    
3. tobyMac 
Our guess is that this is what they call "conferred power." If you hang with a prez named Dubya, people start thinking you could be the next Dubya in the White House.
MOST INTELLECTUAL:  Michael W. Smith
2. Steven Curtis Chapman
3. Jon Foreman 
When you rub shoulders with Washington bigwigs and people like brainy artist/ activist Bono — well, it just makes you think, doesn't it? But our question:  can he play a mean game of Scrabble or Risk? (We figure he'd smoke us with "Name That Tune.")
FAVORITE ALBUM COVER:  "Beauty From Pain" – Superchic[k]
2. Relient K – "MmHMM" 
3. Thousand foot krutch – "The Art of Breaking"
Props to both artists — musical artist Superchic[k] and graphic artist Ben Frank in delivering a cover that gets your attention — thanks, in part, to that iconic bullhorn.
BREAK INTO THE MAINSTREAM:  Hawk Nelson
2. Superchic[k]    
3. tobyMac 
Given that they appeared as The Who on NBC's "American Dreams" and as themselves in last year's mainstream movie "Yours, Mine & Ours," we'd say that they've already made some headway in this department. Now if mainstream radio would just give them a little airspace.
ARTIST YOU'D LIKE TO SEE ON COVER: Hawk Nelson
2. Switchfoot     
3. Barlowgirl
Behold:  your wish is granted on the February 2006 cover of CCM!
ARTIST WITH CHARISMA:  tobyMac
2. Jeremy Camp    
3. Steven Curtis Chapman
Webster's says charisma is "a rare personal quality attributed to leaders who arouse fervent popular devotion and enthusiasm" and "personal magnetism or charm." Yeah, we'd say toby's got those locked in. 
REALITY SHOW HOST:  tobyMac
2. Michael W. Smith   
3. Steven Curtis Chapman
We're not sure how you're envisioning this. Is it the challenge of getting three kids to school on time? Beating your buds on the golf course? Mixing things up in the studio? Taking the mission of ERACE to the streets? Maybe adding a little something tasty to your wardrobe? All of the above? No fear; we think T's up to the challenge.
WHO'D YOU HAVE DINNER WITH?:  tobyMac
2. Rebecca  St. James   
3. Jeremy Camp
No doubt you could enjoy a little sit-down with a guy who has a fine mind, a big heart and music pulsing through his blood. Now on to the menu…Mac and cheese? Chili Mac? Big Mac? (Okay, we'll stop now.)


© 2006 CCM Magazine.  All rights reserved.  Used with permission.   Click here to subscribe.