Christmas Worship - Music Review
David Schrader

Music Reviewer

2002

16 Dec

COMMENTS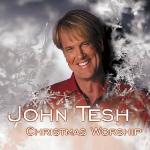 With musicianship, broadcasting, and nice-guy awards aplenty, keyboardist/composer John Tesh knows well enough how to lay down an album that's easy on the ears and heavy on the heartstrings.  Christmas Worship can claim those elements, but is ultimately marred as a definitive work by heading in more stylistic and thematic directions than one project can reasonably contain.
Keeping up his reputation as the instrumental go-to guy, Tesh offers wordless renditions of "Joy to the World" and "Hark! The Herald Angels Sing" in soothing sounds somewhere between Mannheim Steamroller and movie theater intermission music.  Further in, his pensive takes on "We Three Kings" and "Coventry Carol" are more akin to a Windham Hill-type project, with airy piano arrangements and moody orchestration.
Things get tricky when Tesh starts blending modern worship-flavored songs into the set.  Sincerely vocalized versions of "Hungry", "We Fall Down", and "Awesome God" are comparable to recent Michael W. Smith and Rebecca St. James efforts, but their presence on a snowflake covered Christmas album feels somewhat misguided.  These are tracks one could put on any day of the year.
Likewise, two September 11 inspired tributes--the symphonic pop anthem "This Is Your Gift" and hauntingly spoken "God in the Stairwell"--are entirely gripping in moments of reflection, but they don't make an outright connection to December 25.
Back in holiday mode, and crooning like Barry Manilow, Tesh sings and co-writes a romantic ode to his wife on "It Wouldn't Be Christmas (Without You)."  It's a well crafted, snuggle-worthy slow dancer, but without other songs of similar subject matter, the moment loses some impact.
God bless John Tesh for his roaring lamb spirit.  He has mingled with red carpet regalia for years and maintained a boldly outspoken Christian faith, increasing his musical talents along the way.  It's just that with Christmas Worship, he explores several good ideas without fully developing any of them.