Citizens Sets The Standard
Ed Cardinal

Crosswalk.com Contributing Writer

2013

26 Mar

COMMENTS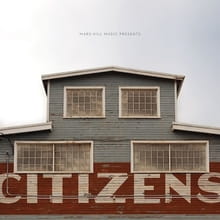 Artist: Citizens
Title: Citizens
Label: BEC Recordings / Mars Hill Music
Many critics did their best to hail David Crowder*Band as the Christian indie rock/worship act that could get through to people who had never given faith-based music a fair chance. But the wide-ranging comparisons to mainstream acts of the day were just as slippery as Crowder's ever-changing output. That said, a new Seattle group known as Citizens may better fit the sounds-like introductory approach, for its self-titled debut album really does bring to mind Passion meeting Passion Pit or Kings of Leon celebrating the King of Kings. Okay—that descriptive attempt may have been cheesy, but the set's alternative vibe rings true, making Citizens quite recommendable.
Citizens lead singer Zach Bolen does indeed favor Leon's front man Caleb Followill from the start. "Sweetness of Freedom" has that raw vocal intensity—a controlled quivering howl matched with fuzzy bass, solid drumming, and crackling guitar work that never gets in the way. It all comes around again on the slowly erupting "I Am Living in a Land of Death," a song with a killer riff and lyrics to fit that bold title—Though a poison should threaten to kill / I know my Savior reigns / and when the breezes of death leave a chill / I've got Jesus' blood in my veins.
"In Tenderness" is especially well done, reworking an 1894 hymn ("In Tenderness He Sought Me") with invigorating Clash-like punk energy, gang vocals, and surprising pop sensibility. "Hail the King" manages to merge alt-rock with breezy blue-eyed soul musicianship, and "Made Alive" develops a decidedly European, early 1980s keyboard hook. There's just no reason for tracks as strong as these to not be on the charts alongside Chris Tomlin, Hillsong, etc.

And it could happen. Citizens is an active part of the mega Mars Hill Church led by pastor Mark Driscoll, and there's an active sense of purpose and community throughout the record that, refreshingly, never feels at all susceptible to falling into modern praise-and-worship clichés. "Jesus!" is clearly performed with an audience in mind, while a cover of "I Surrender All" adds a coda to a classic with as much ease as Tomlin did on "Amazing Grace (My Chains Are Gone)".
It looks like there could be an exciting music scene brewing at Mars Hill, especially if Citizens is setting the standard. Keep watching and listening.
SEE ALSO: Tenth Avenue North - Love Is Here (Official Music Video)
*This Review First Published 3/26/2013