Clean Rock With Worshipful Bent Marks The Turning's "Lose"
Brenten Gilbert

CMCentral.com

2006

27 Jun

COMMENTS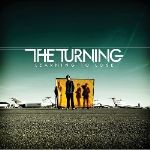 Artist:  The Turning
Title:  "Learning to Lose"
Label:  RKT Music
Despite what insurance companies or government agencies may tell you, none of our earthly possessions are truly secure. It doesn't really take much to realize that everything we have can be lost pretty quickly. In order to find real security, we must look beyond the things that we see.

As Jesus explained in Matthew, those who seek to save their lives will lose it, but those who lose their lives for His sake, will find true and everlasting life. If we can only realize the wealth and value of these eternal promises, we would gladly trade all of our temporary possessions for any amount of Heaven.
Following quickly on the heels of a successful debut with Hyperstatic Union, RKT introduces The Turning to Christian music fans, unveiling another record that's certain to please and help establish a strong reputation for the upstart imprint of Rocketown Records. "Learning to Lose" offers twelve tracks that show listeners the differences between the value system of the world and of God. Lead single, "Out of My Hands" brings out the theme of giving over the control of our lives to God, realizing that we don't really have control. "Home to You" and "Never Again" explain the futility of running from or trying to hide from God, while tracks like "Heart Is Free" and "For You" describe the relief and comfort of turning thing over to God.
Musically, The Turning offers quite a bit to enjoy as well. Fueled by a clean rock sound steeped in pop sensibilities, their debut draws listeners in and offers a fairly textured musical landscape to keep their attention. The album provides a rather smooth soundtrack that's quite accessible and should find be appealing to a wide range of audiences. The worshipful bent should also score the album some points for fans of groups such as Something Like Silas (now Future of Forestry). Tracks like "Numb" and "Change" stand out with their melodic swagger, while more upbeat songs like "Everything Matters" offer more of a variety to the album.
Overall, "Learning to Lose" proves to be quite an interesting listen. While the soothing soundtrack may initially grab your attention, the finer intricacies of the music and lyrics is what will keep listeners coming back for more. "Learning to Lose" offers listeners a rewarding musical experience that encourages and challenges listeners to live with a different perspective. Strong debut from the young four-piece band.


© 2006 CMCentral.com.  All rights reserved.  Used with permission. 

Visit CMCentral.com now and join the single largest online community of Christian music fans on the internet.  CMCentral features  daily music news, exclusive interviews, album reviews, weekly devotions and feature articles written by some of your favorite Christian artists, and much more.  CMCentral is also the home of the most popular Forum for Christian music fans that you'll find anywhere on the Internet.  Come see what all the buzz is about!