David Crowder Band Shakes Up Worship With "A Collision"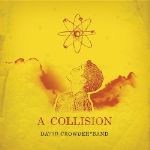 Artist:  David Crowder Band
Title:  "A Collision"
Label:  sixsteps/Sparrow
Constantly probing the scientific underpinnings of music and worship, David Crowder Band once again explores deep beneath the surface on its first full-length studio project since 2003's "Illuminate." With "A Collision," the six-piece modern worship outfit unfurls its most diverse and sonically compelling album to date – an 18-track set clocking in at a satisfying 73 minutes and change. 
In true-to-form offbeat fashion, most of the new disc was recorded in the 110-year-old barn behind Crowder's house in Waco, Texas. What's more, for an entire month the recording process was documented online via blogs and multiple Web-cams.
Group front-man David Crowder says "A Collision" conveys the impact that occurs when "our depravity meets His divinity," and the head-on melodic result is indeed striking. While the overall vibe seems curiously transcendental, it is continuously rooted in graceful, hope-filled praise. Themes range from mortality and oppression to deliverance and divine joy.
Surprisingly, a succinct yet unmemorable cover of Loretta Lynn's "Everybody Wants to Go to Heaven" stumbles out of the gate. But the misstep is only momentary, as the track sets up one of the album's most reverent moments, the Psalm 66-inspired ballad "Come and Listen." The song succeeds with its simplicity, primarily fueled by Crowder's contemplative vocals and skillfully restrained piano and violin accompaniment. 
From there, the tempo and mood shifts to effervescent arrangements like the electronic-sequenced "Foreverandever Etc.," which speaks of God's enduring love, and "Be Lifted or Hope Rising," a foot-stomping number that begins with a vocal sample from an old black spiritual record and then morphs into a full-bodied modern-rock jam session.
Midway through the project comes a remake of the Hank Williams Sr., classic "I Saw the Light," Crowder's first-ever pure bluegrass effort. Thanks to a providential meeting last year at the GMA Music Awards, the band connected with country music veteran Marty Stuart. That encounter ultimately led to Stuart and the group recording the song at the late Johnny Cash's cabin studio outside Nashville. It's the album's most upbeat and impromptu-sounding number.
Deeper into the collection comes dissonance-soaked standout "You Are My Joy," a straightforward rock anthem about the wonder of Christ dwelling in us. With a swelling chorus and jaw-dropping instrumental near the coda, it's perhaps the most iPod-worthy selection of the bunch – and an ideal representation of a meaningful collision. 

© 2005 CCM Magazine.  All rights reserved.  Used with permission.   Click here to subscribe.