Delirious? Goes Out with a Brilliant Farewell Show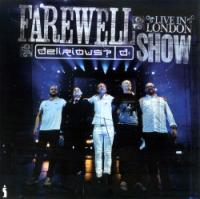 Artist: Delirious?
Title: Farewell Show—Live in London
Label: Kingsway

As the sole act that started the modern worship movement, there's no denying Delirious?' influence on just about ever praise-tipped performer who followed in the group's footsteps.

But with 14 albums released and countless miles traveled across the entire globe, the Martin Smith-led troupe finally called it a day; but not before going out with a bang. The ensuing Farewell Show—Live in London CD and DVD packs in plenty of career crests from the band's history-making tenure, captured in front of more than 5,000 fans at the UK's sold-out Hammersmith Apollo.

In terms of the double disc CD, expect everything from the escalating "Did You Feel the Mountains Tremble?" to the epic "Obsession" and the anthemic "Rain Down." There are obviously plenty of opportunities to join the group in personal moments of praise, including "Shout to the North" and "Majesty," though the group unfortunately cuts "I Could Sing of Your Love Forever" way too short as a mere two-minute snippet. Thankfully though, the chaps make up in the length department with the 10-minute-plus jam of "History Maker," clearly the most enduring cut in their whole catalogue.

The DVD packs even more punches, including an 85-minute main set plus another half hour and some change dedicated exclusively to the band's breakthrough disc Cutting Edge. Particular points of excitement include jumbotron accompaniment of clips from the group's 1997 Wembley Stadium show throughout "Sanctify," while Smith engages the audience by singing into a megaphone during "Deeper."

Add in a behind-the-scenes segment featuring the last-ever clips of the guys together in this capacity, and it's an essential purchase for anyone who's ever followed the band, plus a brilliant bookend to an extraordinary career.

© 2010 CCMmagazine.com. All rights reserved. Used with permission.

**This review first published on June 22, 2010.