Diversity and Controversy Shake Up Stockholm Syndrome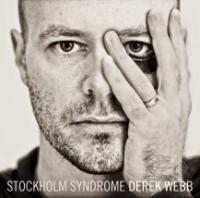 Artist: Derek Webb
Title: Stockholm Syndrome
Label: INO Records
Inorganic innovations …
If there's anything consistent in Derek Webb's career thus far, it's his ability to speak from the heart and occasionally create controversy in the process. His latest solo CD Stockholm Syndrome was actually delayed on several occasions due to a cuss word that's since been edited out on the retail edition, though even on less explicit tunes, there's still a prodding for Christians to shake off all webs (no pun intended) of complacency.
While the incredibly candid lyrical expositions follow in Webb's signature style, anyone who approaches this project hoping for the folksy, organic instrumentation of yesteryear is bound to be disappointed, but pleasantly surprised nonetheless. Instead, they're met with everything from Roaring Twenties jazz to '50s-era doo-wop and even some hints of modern dance, disco and old school soul (and it's all seriously authentic, as strange as that may sound).
Electronic pulsations permeate "I Love/Hate You," club-infused dance grooves tip off "Jena and Jimmy" à la Justin Timberlake and loop-enhanced acoustic guitars permeate "Heaven." The departure may appear to be radical, but it works in all cases given Webb's continued credibility as an artist of many interests, not to mention status as one of Christian music's most respected poets.
The tunesmith tackles topics as diverse as race, politics and sexuality, all wound around an unmistakable spiritual foundation that may push buttons for more conservative listeners, but are likely to make listeners of any faith background do some serious soul searching.



© 2009 CMCentral.com. All rights reserved. Used with permission.




Visit CMCentral.com now and join the single largest online community of Christian music fans on the internet. CMCentral features daily music news, exclusive interviews, album reviews, weekly devotions and feature articles written by some of your favorite Christian artists, and much more. CMCentral is also the home of the most popular Forum for Christian music fans that you'll find anywhere on the Internet. Come see what all the buzz is about!

**This review first published on October 6, 2009.