Doolittle Makes Retro Modern on Coming Back to You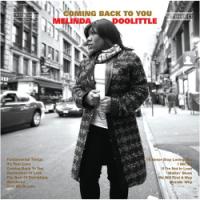 Artist: Melinda Doolittle
Title: Coming Back to You
Label: Hi Fi Recordings

Justice is served on favorite AI finalist's first set …
Having been trumped in the final hours of American Idol Season 6 by some unforeseen reality TV coup, Melinda Doolittle's premature elimination has been criticized as the greatest injustice in the reality show's historic eight-year run.
But listen up. The soul sister is getting revenge, and boy does it sound sweet. Boasting vintage strings, dirty tambourines, chiming bells, one perfectly placed horn hit after another and the funkiest three part background vocals this side of the '60s, Coming Back to You is completely retro but brilliantly modern, a mature R&B/funk debut to balance today's pop/rock tween scene.
One of only a handful of legitimately superstar American Idol alumni, Doolittle's instrument has consistently, and fairly, been compared to the feverish Tina Turner. But the throwback vocalist has an even wider range of nuance. Consider Patti Labelle's whiny runs and Gladys Knight's passionate interpretations, and Doolittle sounds like a singer born in the wrong era.
Songs covered include Bonnie Raitt's "Fundamental Things," Doris Day's "I'll Never Stop Loving You" and a pair of Robert Johnson blues standards—"Dust My Broom" and "Walking Blues"—both having been covered by countless artists from various genres over the years.
But a curious Christian audience shouldn't expect a great revelation here. Though Melinda was well acquainted with the gospel music industry well before her AI stint, these 12 tracks consult the heavens very little, at least lyrically. Even so, Melinda's gospel-driven, preach-it-girl pipes make Coming Back to You a religious experience all its own.
And yeah, from song to song the record sounds much the same. But it all sounds good. So forget Doolittle's silly little grin and hesitant demeanor; this girl means business, and the fiery gumption of Coming Back to You proves it.
© 2009 CMCentral.com. All rights reserved. Used with permission.




Visit CMCentral.com now and join the single largest online community of Christian music fans on the internet. CMCentral features daily music news, exclusive interviews, album reviews, weekly devotions and feature articles written by some of your favorite Christian artists, and much more. CMCentral is also the home of the most popular Forum for Christian music fans that you'll find anywhere on the Internet. Come see what all the buzz is about!

**This review first published on June 23, 2009.

Watch Melinda Doolittle music videos at Godtube.com.