Eisley Grows Up on Combinations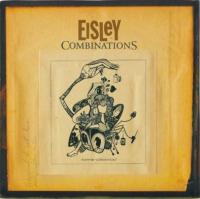 Artist: Eisley
Title: Combinations
Label: Warner/Reprise
Eisley has grown up. Gone (for the most part) is the world of make-believe for this "indie pop" group, presenting a more mature look at life on its newest album, Combinations.
From the very first track, "Many Funerals," it is clear Eisley has darkened its sound from the wistfulness of Room Noises. Shedding the innocent songs about fairies and forests, the lyrics are much more relatable. Fans of Sixpence None the Richer will appreciate the melodic voices of siblings Stacy DuPree and Sherri DuPree-Gilbert, joined by the rich musical undertones of siblings Chauntelle and Weston and cousin Garron.
"Invasion," the first single from the album, is based on the novel Invasion of the Body Snatchers. One of the strongest tracks is "Go Away," where the piano and vocals shine, followed later by the sweet and catchy "Come Clean." The album showcases the band's versatility, with everything from the country-infused "Ten Cent Blues" and the darker "A Sight to Behold" to the whimsical title track and haunting lullaby "If You're Wondering."
This Texas family has come a long way, from the success of their first album to scoring an opening gig for Coldplay—and they continue to grow and impress. The group's distinctive sound, artistic talent and family ties prove to be a winning combination.

© 2007 CCM Magazine. All rights reserved. Used with permission. Click here to try a free issue.