"Exodus" Sounds Even Better the Second Time Around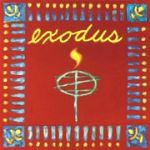 Title:  "Exodus" (Extended Version/Special Re-issue)
Artist:  Various
Label:  Rocketown
In 1998, Rocketown Records (at the time still a fledgling label founded by Michael W. Smith), released "Exodus," a record that, in part, signaled the full-on arrival of the modern worship movement. The collection of mostly original songs was produced by Smith and featured many of Christian music's leading artists, and it was a shining example of what contemporary worship music could be when done well.
Nearly seven years later, as the project is nearing gold certification, Rocketown is re-releasing "Exodus" for the benefit of those who may have missed it the first time around — with three bonus tracks to boot. Amazingly, the album sounds every bit as good as it did back then. Of course, any project with an artist lineup that includes dc talk, Jars of Clay, Third Day, Crystal Lewis and many of Christian music's finest would be hard pressed to disappoint; but "Exodus" still remains head and shoulders above many of the worship projects being churned out these days.
Several tracks still sound particularly good, notably Cindy Morgan's soaring anthem "Make Us One," Sixpence's "Open My Heart" and Third Day's rocking rendition of Smith's "Agnus Dei." Dc talk's reminder that "we've got to be children of peace" takes on a new poignancy in a post-Sept. 11 world, and Chris Rice's simple masterpiece "Nothin" still manages to sum up salvation in a three-minute song without trivializing the greatest gift ever offered to humanity.
The three new tracks are included at the end of the record, and, thankfully, they are more than just filler. The first two, in particular, seem to fit seamlessly into the original concept and feel of "Exodus." Nirva, a gifted vocalist known for her work with tobyMac, offers a soulful and satisfying "Jesus' Blood." Rocketown rocker Taylor Sorensen joins with Delirious vocalist Martin Smith for "Sing (or the Rocks Will Get To)," an uplifting number with an ethnic flair in the background vocals. And finally, Robbie Seay Band brings the record to a rousing finale with "Hallelujah God Is Near."
In the end, if you aren't already a fan of "Exodus," pick up this re-release, and you soon will be.

© 2005 CCM Magazine.  All rights reserved.  Used with permission.  Click here to subscribe.