Faith Hill Keeps It Classic on Joy to the World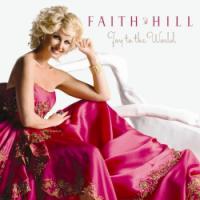 Artist: Faith Hill
Title: Joy to the World
Label: Word Entertainment

Country superstar makes bold statement of faith …
She may have first risen to fame in country circles, but Faith Hill has found herself at the top of the pop charts on countless occasions. These days, her crossover status is extending into Christian music, thanks to a deeply spiritual holiday album to mirror her lifelong beliefs and interest in gospel music.
Though she could've easily constructed this batch for the modern country charts, Joy to the World is mostly a classic collection that could sit right beside vocal giants like Natalie Cole or Celine Dion, but with Hill's southern charm substituting for those artists' more soulful tendencies.
While almost all of these tracks are familiar, the singer claims many as her own, with the jazzy pop of "Winter Wonderland" and the radiant "Joy to the World" coming across with striking beauty and splendor. "Holly Jolly Christmas" maintains the feel of a golden oldie met with modern production, while "Away In a Manger" confirms that despite Hill's outer beauty, she's more than a pretty face when it comes to unwavering vocal control in the studio.
But even if those tracks didn't appear, the original "A Baby Changes Everything" could more than stand as the sole reason to purchase this project. Not only is the orchestration stunning enough to produce a spine tingle, but the perspective of telling the Christmas story through Mary's eyes is nothing short of breathtaking.


© 2008 CCMmagazine.com. All rights reserved. Used with permission.

**This review first published on October 23, 2008.


To listen to Christmas music for free and anytime you want, please click here to choose from Crosswalk Radio's Christmas channels.
See Faith Hill music videos at Godtube.com!