FFH at Its Best on Polished Pop Offering "Still the Cross"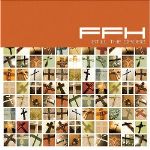 Artist:    FFH
Label:   Essential
With the group's success over the past decade, the members of FFH could've "called it a day" as the quartet spent the last year and a half pursuing other interests outside the power pop group. Jeromy and Jennifer Deibler welcomed their first child into the world, while Brian Smith and his wife expanded their family with the arrival of a second child. In addition to being a new parent, Jeromy also continued to delve into the production side of music, working with Big Daddy Weave and Palisade on its recent albums, while Michael Boggs concentrated on his songwriting craft.
But as the old adage goes, "Absence makes the heart grow fonder"; and the evidence of the time away is continued artistic growth. And for FFH's fifth studio project, the group decided to strip the message down to the basics. The lyrics are simple and uplifting, and FFH differentiates this album musically with new instrumentation that is atypical from the group's previous efforts. Part of this ambitious musical shift is credited to producer Mark Miller (Casting Crowns) along with longtime FFH producer Scott Williamson, plus Jeromy's co-production on seven tracks.
The title track, which also serves as the disc's first single, is an adept power ballad that Christian radio should easily latch onto. "Without You" touts an infectious hook, tight harmonies and crunchy guitars. On "In This Moment," effects are used in abundance as the track opens with what sounds like a cell phone ringing as the instrumentation sneaks in and crescendos to the opening of the song where Jennifer's sweet voice enters and finally builds to the breakout chorus.
Mixing things up, "Cover Me" is easily the edgiest song on the album and was written in response to the unexpected passing of the 5-year-old son of a friend (Trent Dilfer, Seattle Seahawks' quarterback). FFH turns feelings of anger and confusion from the loss into a redemptive song of reassurance and features an excellent string arrangement. Also on a personal note, "You and Only You" was written about the Deibler's son. This piano-driven ditty is upbeat and has tasteful interaction between the keys and the electric guitar. When viewed as a whole, "Still the Cross" shows FFH at its best, with a polished pop album that is sure to please fans and may potentially attract new ones with its vast instrumentation.

© 2004 CCM Magazine.  All rights reserved.  Used with permission.  Click here to subscribe.