Focus Is on the Family on Plumb's Blink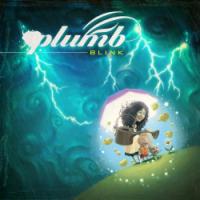 Artist: Plumb
Title: Blink
Label: Curb Records
One thing is clear very quickly: Tiffany Arbuckle Lee, the artist known as Plumb, is supremely happy and content in her circumstances. I'm talking happy like a bug in a rug. The mother of two boys, Solomon Fury, almost 2 and a half, and Oliver Canon, 9 months, absolutely revels in the bliss of parenthood and marital happiness. And if that sounds unappealing, don't worry, it isn't. What Blink does is give listeners a window into Plumb's profound joy and awe of the beauty of family life done well, and it comes across to me as very timely on this immensely personal album.
The opening strains immediately kick off the album's theme, the notes chiming like one of those wind-up mobiles that hang over a crib, before Plumb's warm vocals sing the "Sweet and Lovely" ones to sleep. The thick strings also indicate immediately that this is not the Plumb album you're used to. Co-writers Matt Bronwelee and Jeremy Bose each worked on three songs with Plumb, and followed her lead into sonically exploring the mysteries and delights of parenthood. Pulsating keys inject ambiance to Civilla Martin's hymn, "God Will Take Care of You," before the big vocals of first single "In My Arms" pour out. Inspired by first son Solomon, its maternal lyrics parallel the love of God for His children.
Yes, that's a harp you hear opening "Always." Rich guitar noodling adds some needed crunch, and the track goes out on a babbling brook loop, very Serenity Now. There's lot of spacey looping on the album as well as the unexpected minor chords, which together with Plumb's ethereal vocals make Blink a very distinctive lullaby type project. She proves once again dependable in terms of unique perspective.
I confess I got a bit lost in the second cover, "Children of the Heavenly Father," with its almost screechy opening violin and dreamy looping. But things picked up again with the beautifully-mixed, textured title track. I also enjoyed the lilting and lovely "Me," and gentle rocker "Sleep," rich with sound. The album closes appropriately with the floaty bed-time song, "Solomon's Song." Blink serves up a whole lot of mellow, which won't be everybody's cup of tea, but parents are gonna fall hard for its rich sense of mystery and wonder.




© 2007 CMCentral.com. All rights reserved. Used with permission.



Visit CMCentral.com now and join the single largest online community of Christian music fans on the internet. CMCentral features daily music news, exclusive interviews, album reviews, weekly devotions and feature articles written by some of your favorite Christian artists, and much more. CMCentral is also the home of the most popular Forum for Christian music fans that you'll find anywhere on the Internet. Come see what all the buzz is about!