Foolish Things Reminds Us to "Not Forget" on Inpop Debut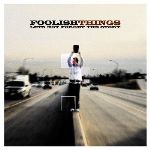 Artist:  Foolish Things
Title:  "Let's Not Forget the Story"
Label:  InPop Records
It's easy to get caught up in the world around us. The pleasures we experience in this lifetime can easily put us in a place of comfort that eventually leads us to believe that this is what life is all about. In reality, these comforts of life may actually be distracting us from the true meaning of life and in turn, keeping us from fulfilling our life's purpose. The Bible says that our love for the world can only serve to eclipse our love for God, which keeps us from the priorities we should have in life.
With a pop-rock sound that keeps listeners moving, new band Foolish Things debuts on Inpop Records and drives home this teaching with "Let's Not Forget the Story." Tracks like "It's Not Home" remind listeners that despite our feelings to the contrary, this world isn't where our eternity will be spent. Other tracks draw the comparisons between all that the world has to offer and all that is offered to us by God. "Who Can Compare" opens the album with the statement that God's offer is far better than that of the world. "This Love," "Capital P" and "The First Lie" lament one's preference of the world, while tracks like "Forgive Me" and "Fight" show a desire to set things right.
Musically, "Let's Not Forget" packs an intriguing punch with poppy hooks and catchy guitar licks that draw listeners in and keep them tuned in awaiting more. Tracks like the opening, "Who Can Compare," start off with an interesting structure and build from there throughout with layers of rhythms and instrumentation. Much of the album exists in the same mid-tempo range with surprising twists throughout the song – for instance the racing chorus of "This Love" – but there are also a few ballads ("I Can't Believe," "Forgive Me") mixed in with some fun and upbeat pop tunes ("Be Still"). "Find Your Way Back" proves to be something of a stand out track with a driving beat and a powerful chorus. Production help from Jason Houser (Matthew West) leaves a nice impact on the album, making it easy to listen to and get into.
Overall, the album feels quite polished and should quickly find its way into listeners' heads. Fans of such pop groups as Casting Pearls, Newsboys and others should quickly assimilate to Foolish Things. A fun-loving album from head to toe, "Let's Not Forget the Story" is memorable and enjoyable.



© 2006 CMCentral.com.  All rights reserved.  Used with permission. 

Visit CMCentral.com now and join the single largest online community of Christian music fans on the internet.  CMCentral features  daily music news, exclusive interviews, album reviews, weekly devotions and feature articles written by some of your favorite Christian artists, and much more.  CMCentral is also the home of the most popular Forum for Christian music fans that you'll find anywhere on the Internet.  Come see what all the buzz is about!