Francesca Battistelli Matures in Hundred More Years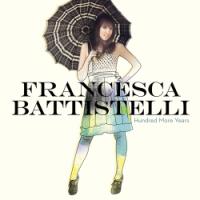 Artist: Francesca Battistelli
Title: Hundred More Years
Label: Fervent Records

Marriage and motherhood provide plenty of new inspiration for Francesca Battistelli's sunny pop songs …

Change is always inevitable, but sometimes life's biggest shifts happen all at once—just ask singer/songwriter Francesca Battistelli.

In the roughly two-and-a-half years since her much-celebrated debut, My Paper Heart, the industry's reigning Female Vocalist of the Year won a slew of Dove Awards, topped Christian radio charts, criss-crossed the United States on tour, was nominated for Grammy, and if that wasn't already exciting enough, she also got married, relocated from Nashville to Atlanta and just last year, gave birth to her son, Matthew.

And since the most compelling art is often inspired by personal experience, well, Battistelli certainly had no shortage of new material to draw from for her sophomore project, Hundred More Years.

Much like My Paper Heart, the mood of Hundred More Years is decidedly sunny and positive. Not deviating much stylistically, save for an unexpected ukelele solo or two, Battistelli's warm, confident voice is clearly the highlight of her R&B-accented pop songs.

But thanks to the way she utilizes her best instrument, there's still enough variety to keep things interesting. While she's often compared to contemporaries like Colbie Callait and Sara Bareilles, there's nothing glaringly derivative about her work, especially because there are none of those longing, I-wonder-what-he-thinks-of-me relationship songs, which is definitely a bonus.

Instead Battistelli has her mind on loftier subjects, whether she's singing a confessional track about keeping life's little distractions in perspective ("This Is the Stuff"), offering a personal perspective on the high cost of true love on "Worth It" or simply reveling in the happy, everyday moments, rather than looking too far into the future in the engaging title track.

Also showcasing her versatility as a vocalist, the stripped-down, a-little-bit-country strains of "You Never Are" is also a highlight, while "Emily (It's Love)" is a catchy duet with fellow singer/songwriter Dave Barnes that's tailor-made for roll-down-your-window summer listening.

Offering a formidable mix of substance and style on Hundred More Years, Battistelli clearly has a long, exciting career ahead of her. And since she's 25 years old, there's probably plenty more adventures ahead to keep her introspective songwriting sharp and engaging.