"Genesis" Signals a Rebirth for Joy Williams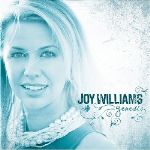 Artist: Joy Williams
Title: "Genesis"
Label: Reunion
Though Joy Williams may be on her third album, her latest is such a rebirth that it could very well be considered a blockbuster debut. When the young singer/songwriter emerged in 2001 with a self-titled effort, listeners were quick to affirm her booming pipes and expansive vocal range. Such observations carried over into 2002 when she entered CCM's Readers' Choice Awards as "Best New Artist" along with her release of sophomore effort "By Surprise." That record earned a series of positive reactions, though some critics (including yours truly) deemed it less than it could have been.
Regardless of the opinion poll the last time out, all are likely to agree this third try is her ultimate charm. Not only has Williams beefed up her already impressive vocal chords, but she develops a much more personal direction in terms of songwriting over additionally interesting and, at times, far more aggressive arrangements. In terms of the thematic shifts, Williams advances beyond teenage topics to take a young woman's journey of vivid self-discovery and romantic realization. "I'm In Love With You" is one example that touches on her recent marriage, displaying clever lines like: "Love is joy and love is rain/It's like kissing in the rain/It's doing dishes when it's late." It's matched with a splendid blending of piano and acoustic guitars with Williams' precise pitch.
Even more astounding is "Stay," which builds with a rippling, programmed loop and a driving direction that recalls Pink at her most productive. It speaks of slowing down the pace of a busy life and plugging back into what really matters, including earthly and supernatural relationships. Next is the bubbly but artful bounce of "We," a dissection of someone who's missing God in his or her life and the lagging self-esteem that ensues. "Beautiful Redemption" builds off that track with booming balladry, discussing feelings one will find when committing to a higher cause. Stylistically the cut mirrors something Jewel or Paula Cole might record, but with much more open-hearted and gutsy looks at past mistakes than such glossy stars often relay.
Producer Matt Bronleewe (Natalie Imbruglia, Michael W. Smith) further pushes the 22-year-old on "Silence," which is reminiscent of Plumb at her peak, along with "Unafraid," during which Williams belts to reach the mountain tops over swelling orchestration. Either could make waves on Christian or mainstream radio and further exemplify the artist's many strengths. It's this consistent ability to take risks and land firmly footed that makes "Genesis" a truly viable renaissance likely to situate this songstress within approving fan stances.

© 2005 CCM Magazine. All rights reserved. Used with permission. Click here to subscribe.

Check out Joy Williams music videos at Godtube.com!