Ghost Ship A Roots-Rock Band
Ed Cardinal

Crosswalk.com Contributing Writer

2013

12 Aug

COMMENTS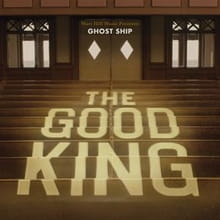 Artist: Ghost Ship
Title: The Good King
Label: BEC Recordings/Mars Hill Music

Seattle septet Ghost Ship is the second act (following Citizens) linked in to noted pastor/author Mark Driscoll's Mars Hill Church and releasing its album via the congregation's arrangement with BEC Recordings (Jeremy Camp). Lead singer Cam Huxford directs worship at the church's downtown campus, and his Georgia roots and Pacific Northwest vibe influence the compelling sound and message on The Good King, making Mars Hill Music two-for-two as a record label.

Comparable to The Decemberists and Rend Collective Experiment, opening track "Mediator" rollicks along with a folksy freshness and crisp lyrics about how Jesus speaks to God on our behalf. Huxford's brand of Scripture-based musical storytelling is simple yet stands out in its ability to communicate with the un-churched population around him. "Orion" feels like rainy day pop, brooding until the chorus declares: The hands that hold the stars above will never let me go.

"Lion Man" wins major points for originality; imagine the Southern Gothic charms of O Brother, Where Art Thou? meeting Black Sabbath's "Iron Man" in an altogether listenable song inspired by the foreshadowing in the Old Testament about the life of Jesus. The softer "Jude Doxology" flips a less traveled Bible passage into an unexpectedly powerful praise and worship experience, while "Son of David" adds rich melody to the blind man calling for Christ in the book of Mark.

Ghost Ship defines itself as a roots-rock band, and such a tag surely fits on "The Truth" where echoes of The Wallflowers and Tom Petty abound. Steel guitar-driven "The Gospel" has a classic country way of bringing home the lesson in 1 Corinthians 15, and the roots run even deeper on reinvented hymns "Holy, Holy, Holy" and "What a Friend We Have in Jesus." The former is a calming campfire moment and the latter a bouncy street performance in the spirit of The Pogues, packed with fiddle, foot stomping, and mile-a-minute snare drum.

Ethereal second to last track "Where Were You?" may capture the best of Ghost Ship—the soft to fierce dynamic, the biblical source material (in this case from the story of Job), and such a mind-stirring way with words: I spoke of things I did not understand / Things too wonderful for me / Although I had no right to ask / My God knelt and answered me. Worship music fans with alternative tastes take note: The Good King is a really good record.
*This article First Published 8/12/2013