God Is "Voice From Home" on New FFH Concept Album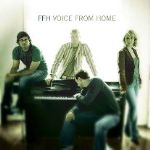 Artist:  FFH
Title:  "Voice From Home"
Label:  Essential
Continuing to pursue a musical path beyond simple power ballads and catchy harmonies, acoustic pop/rock group FFH delivers a distinctive concept album for its sixth studio offering. The 12-track set finds the quartet effectively revealing first-person style messages from God, and the resultant themes range from hope and peace to love and encouragement. 
Inspired by a longtime mentor of FFH front man Jeromy Deibler, the album borrows its name and perspective from pastor and author Rich Stevenson's recent book "A Voice from Home" (WaterBrook Press). The thesis is simple, yet profound:  God spoke encouraging words of inspiration and affirmation to Jesus when Christ was here on earth, and these same messages are intended for believers today. In essence, both the book and the album focus on God's affection for His children as expressed through scripture.
Sonically, the selections on "Voice From Home" contain a palatable mix of accessible, radio-friendly songs ("The Only Hand You Need," "Worth It All") and bolder, full-bodied cuts ("Great Big Problem," "It's You"). Most of the piano-driven tracks are buoyed along by Deibler's confident vocals, which resonate much like a younger version of Michael W. Smith.
On songs such as "Can't Let Go" and "It's You," listeners are treated to Jennifer Deibler's sprightly ingenuity and memorable delivery. For some reason, though, Jennifer seems underutilized on this project. Her voice and Jeromy's complement each other nicely, but, alas, we rarely witness it here.
Nevertheless, the project benefits from piano-driven ballads such as "Grand Canyon," which speaks of God reaching across the divide and offering His saving hand, and "Come Away," a song about following the Creator to the "mountain of your dreams."
Overall, FFH should have no trouble taking listeners to greater spiritual heights and pointing them to a God whose still, quiet voice is worth hearing time and again. 


© 2006 CCM Magazine.  All rights reserved.  Used with permission.   Click here to subscribe.