GRAMMY nominees, Blind Boys, and Derek Webb - Feb 12 News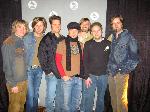 NASHVILLE GRAMMY NOMINEES UNITE – The GRAMMYs are less than two weeks away, but that's not stopping Nashville-based GRAMMY Awards nominees from celebrating their nods.  Third Day ("Best Gospel Rock Album"), tobyMac ("Best Gospel Rock Album") and Jars of Clay ("Best Pop/Contemporary Gospel Album") were honored by the Nashville chapter of the Recording Academy at a recent event in Music City, U.S.A. which honored Country and Gospel categories.  The 45th Annual GRAMMY Awards will be handed out on Sunday, February 23, 2003 at 8:00 p.m. ET/PT on CBS.  To see all the nominees in Gospel categories, click here.
BLIND BOYS TAKE IT HIGHER– With a recent GRAMMY Award nod ("Best Traditional Soul Gospel Album") and two Dove Award nods ("Traditional Gospel Recorded Song of the Year", "Traditional Gospel Album of the Year") under their belts, The Blind Boys of Alabama are enjoying the fruits of 2002's Higher Ground--the follow-up to 2001's Spirit of the Century.  What might just propel them to even higher happy ground is their 2003 induction into the Gospel Music Association Hall of Fame, along with Amy Grant and Pat Boone during this April's 34th Annual Dove Awards ceremonies.  It's very well deserved after a 60+ year career, spawning more than 50 albums.  Congrats, Blind Boys!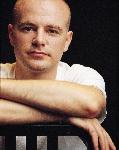 WEBB READY TO GO SOLO – It is official.  Caedmon's Call member Derek Webb has announced that he is leaving the acclaimed folk/pop band after a 10-year stint to pursue his solo career full-time.  The singer/songwriter's debut, She Must and Shall Go Free, releases on March 25 on INO Records—less than two months after the release of Back Home, the latest project from Caedmon's Call.  Webb co-produced SMASGF with Kenny Meeks, Matt Pierson, and Garett Buell and will support the project with spring and summer tours.  Details will be announced on Webb's site, www.derekwebb.com, very soon.