Greetings from California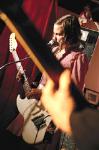 There's good reason why California's called "The Golden State." From San Diego to San Francisco, the nation's 31st state boasts some of the most artistically progressive cities in the world, not to mention the entertainment capital in Hollywood. As the state that outdid Minnesota in terms of celebrity governors, California offers an endless array of oddities, from pet therapists to hotels with poolside outdoor waterbeds. Still, the oddest irony of all is that this often secular, largely left-wing, left-coast state remains one of the most supportive places for Christian music.
The Crossover Factor
Exactly 20 years ago, it was the Orange County group Stryper that helped put Christian music on the mainstream map. And thanks to modern bands like Switchfoot and P.O.D. from San Diego and Lifehouse from Los Angeles, the stigma on faith-based music is starting to wash away like Santa Monica waves. Nashville surely provides much-needed focus and centralization for Christian music, but the West Coast bands and labels have often pushed the creative wheel, tested and broken new trends.
"If you are skilled and up on your game, people are more open to whatever you believe," says FLYNN of LA Symphony, a Gotee Records act that recently performed with X-zibit, Westside Connection, Clipse and Jurassic 5 as part of a Power 106 (L.A.'s trendsetting hip-hop station) radio fest. "Making good music with universal appeal bridges the gap and makes people ask what we're really about. It's the catalyst for so much more."
"The lines are blurred because the art and music are getting better," says Tim Tabor, a leading Christian promoter and the owner of Floodgate Records, home to such California acts as Cool Hand Luke and East West. "The doors are opening to play the same venues that anyone else plays, which allows for a higher level of ministry. People are going to the same clubs they've always gone to, but they are hearing great music that challenges their ideas about faith. To me, that's a breakthrough."
In recent years, California bands like Stavesacre (Nitro) and Project 86 (Tooth & Nail) released mainstream albums, following in the footsteps of other West Coast artists such as the 77s (Island/A&M), Guardian (Capitol), Michael Knott (Elektra), Dakoda Motor Co. (Atlantic), Charlie Peacock (Island/A&M) and Freedom of Soul (Epic). MxPx, though from Washington State, got its break on a then California-based label (Tooth & Nail) and with invaluable help from L.A.'s KROQ radio. In fact, today's mainstream labels are often discovering hot, new, faith-driven acts before the Christian labels do.
"We all love the Lord, and we all love playing and writing good music," says singer Christopher Wade of the new Elektra Records band April Sixth from Orange County. "I've felt nothing but love from both the mainstream and Christian industries. Everyone's pretty much the same: If the music rocks, then the music rocks."
Mean Street Magazine, the largest free monthly music publication in Southern California, also took notice and started covering California's edgier Christian artists. Says Waleed Rashidi, the magazine's chief editor, "I suppose the Christian element used to be at the forefront of my mind upon receiving such releases, but that was back when the division between Christian and secular music was more blatant. These days, releases from such labels are perceived quite equally to those from secular labels. Overall, there's been an astoundingly large acceptance of Christian-based artists by the local secular market."
Among other key benefits, the close proximity to a world-class music market affords California bands access to more opportunities. Surrounded by such a vast and vibrant live scene, talented bands can always find a place regardless of their message. Moreover, there's no denying the benefits of being near the heart of the entertainment industry.
East West drummer Bob Vergura explains, "We got hooked up with TV shows like 'Blue Torch' on Fox Sports and on USA Network's 'FARMCLUB' because we lived in SoCal. You have access to industry people who you would not have living elsewhere."
The Start of a Scene
As home to the "Jesus People Movement," California is often called the birthplace of Christian rock. Looking back to the late '60s, the movement started in a small evangelical mission in San Francisco's Haight-Ashbury district and proceeded to spread throughout the country. The movement significantly reached out to disenfranchised hippies who, once involved, simply added a gospel message to the rock music they were already playing. Dubbed "Jesus people music," the early California scene included Love Song, Phil Keaggy, Randy Stonehill, the Eternal Rush, Jeremy Spencer & the Children of God and, of course, Larry Norman, whose '69 Capitol Records disc, "Upon this Rock," is considered the quintessential breakthrough classic. As evidence of the music's popularity, there was even a "Jesus People Live at the Hollywood Palladium" album by '72. Later West Coast acts included the immensely popular Sweet Comfort Band and alt-rock pioneers Daniel Amos.
"Being progressives from the 'land of fruits and nuts,' we just didn't and don't know any better," says Daniel Amos singer/principal songwriter Terry Taylor about the state's forward-thinking bent. "Cultural changes in fashion, music, art, politics, etc., for good or ill, usually explode here and in New York first and then leak out like water through a slow sieve to the rest of the country. Since California has always been on the cutting edge of cultural changes and social upheaval, it makes perfect sense that its Christian artists, emboldened by their own indigenously creative climate, would mirror their secular counterparts."
Thanks to progressives like Taylor, the scene continued to grow and reached a "golden age" of sorts in the '80s. During this time, Calvary Chapel Costa Mesa featured huge, free Saturday night concerts; popular bookstores like Joybells and Maranatha Village hosted record release events; and many of the major Christian labels were still in California and featured significant West Coast talent. Likewise, the Orange County television network TBN launched the first-ever Christian rock video show, "Real Videos"; and SoCal had quality Christian radio, KYMS 106.3 FM, playing rock and alternative on weekend programs.
With so many opportunities, countless new bands emerged, offering a variety of progressive styles. Such artists include Undercover, Uthanda, the Lifters, 411, The Choir, Common Bond, Vector, Adam Again, Point Blank, Crystal Lewis, The Crucified and a host of metal bands like Neon Cross, Barren Cross, Red Sea, Tourniquet, Jordan and Holy Soldier. As bands multiplied, a host of progressive labels followed suit, such as Glasshouse, Vineyard, Pakaderm, Metro One, New Breed, Narrowpath, Ocean, Broken/Brainstorm and later Rescue, Patriot/Rugged and the once-indie Essential Records.
Regarding the West Coast's progressive edge, Crystal Lewis recalls, "The California scene has always been a catalyst for the new — and not just Christian music. Orange County spawned several bands that went on to be huge successes, like No Doubt, Sugar Ray and Social Distortion, to name only a few. I think once up-and-coming artists see something happening to others in their same field and in their own backyard, they gain inspiration and encouragement. That keeps the scene evolving and growing."
Before beginning Metro One Records with her husband, Lewis was signed to Frontline Records, arguably the most prolific modern music label of the time. The Santa Ana-based company helped propel several new genres into the Christian marketplace with such SoCal artists as speed-metallers Deliverance, industrial rockers Mortal and reggae-infused Christafari. Bay Area artist Jon Gibson even introduced MC Hammer to the world with his '88 album "Change of Heart." Other California-based Frontline artists included the Lifesavers, the Altar Boys, Bloodgood, Shout, Vengeance and later Mad at the World and the Scattered Few. Frontline also played a role in developing early Christian hip-hop by releasing such Texas-based rappers as P.I.D. (Preachers In Disguise) and the late D-Boy. 
Though the artists tended to sing light, sunny fare when they started, the decade closed with them tackling deeper, personal issues and concerns, a step that again produced revolutionary growth from the Pacific coast. The Lifesavers, changing its name to Lifesavers Underground, shocked the industry with the dark, brutally honest album "Shaded Pain." Similarly, Undercover took a more introspective turn with "Branded" and the Altar Boys with "Forever Mercy." The most controversial album, however, was Leslie Philips' "The Turning" [produced by her then husband-to-be, T Bone Burnett), a breathtaking album loaded with songs about doubt, hurt and pain. Philips encountered such opposition to this album that she eventually left Christian music, changed her first name to Sam and started releasing a string of acclaimed albums on Virgin Records.
As these artists took such bold steps, the changes won over new fans and alienated others but collectively marked a shift in faith-based music. More artists started expressing emotions and deeper thoughts while elevating the overall quality and breadth of their music, changes that eventually birthed California's current musical climate.
From Blonde Vinyl to Tooth & Nail
Though short-lived, Michael Knott's Blonde Vinyl Records played a major role in creating an indie scene within Christian music. Based in Orange County, the record label released numerous albums in what were then underground genres like punk, house and industrial with such local groups as Fluffy, Breakfast With Amy, Black and White World, Plague of Ethyls, Dance House Children (which later splintered off into Starflyer 59 and Joy Electric) and, of course, Knott's own band, Lifesavers Underground (a.k.a. L.S.U.). Distribution problems eventually led to the label's demise but not before Blonde Vinyl showed that Christian music fans were, indeed, interested in "college radio" type music.
In the wake of Blonde Vinyl's closure, Knott started releasing albums on various labels, including his former label home, Frontline Records. There he got to know the label's radio/publicity guy, Brandon Ebel, who had been a big fan of Blonde Vinyl. With a vision for his own indie-centered label, Ebel left Frontline in 1994 and started Tooth & Nail Records with inaugural artists Wish For Eden, Focused and Starflyer 59. Making great strides in building a national base for Christian artists previously considered too fringe, the label eventually hit the big time with the ska-punk hit O.C. Supertones and the pop-punk outfit MxPx.
Starflyer 59 front man Jason Martin recalls, "During that early scene, 90 percent of Brandon's bands were from California. He was living in California back then, and he was going to see bands there that weren't getting record deals at that time. He took a chance on those bands, and it actually worked. I don't know if he would have been able to do the same thing in Nebraska, but there were some cool bands in those days; and they were all from California."
In the '90s, California helped developed a great scene for indie rock, punk and ska; but the state also played a pivotal role in urban music. Brainstorm Records, which broke into hip-hop with JC & the Boyz, enjoyed further success with the Chris Cooper-led rap collective SFC. The label later released albums by SFC cohorts the Dynamic Twins and Freedom of Soul. Today, Cooper goes by Sup the Chemist and has started his own label, Beesyde Records, with a new album through Uprock. Likewise, Sup's old turntable master DJ Dove developed and broke another L.A. rap group, the Gospel Gangstaz. T-Bone, one of California's top breakout emcees, actually paid homage to West Coast rappers like SFC, Freedom of Soul and Poetic Lee on his recent track "Our History."
Entering the New Era
Today's West Coast labels, which include Floodgate, Northern, Marathon, N*Soul, Metro One and Velvet Blue, among others, feature dual market mindsets and a vision for free artistic expression. Inglewood's B-Rite and Gospo Centric Records, for example, enjoy significant cross-market success with Kirk Franklin and "American Idol's" R.J. Helton. With its mix of opportunity and challenge, the left coast remains a progressive hub and oftentimes an artistic magnet, drawing in the likes of dc talk's Kevin Max, a recent L.A. transplant, and Indiana native Jeremy Camp.
"It is separate from the industry," says Camp about the benefits of starting out in California. "That can be a good thing because [the scene] is not influenced by any normality or structure that tends to sway a lot of artists into the 'you-have-to-be-this-way-and-write-songs-this-way' type situation."
Without question, today's California artists, which also include Noise Ratchet, Holly Nelson, Ping, Priesthood, Fernando Ortega, Kathryn Perry, Havalina, Violet Burning, Slick Shoes, Dogwood, PAX 217, Map, CUSH and the Halo Friendlies, provide ongoing testimony that Christians value artistic excellence as much as anyone else.

Upon This Rock: How Churches Helped Spark a Scene

As Christian rock started becoming popular in the '70s and '80s, many churches found the most uncomplimentary of words for a musical movement they viewed as too "worldly" or incapable of ministry. While resistance from the pulpit hindered the music in some places, California evolved into one of the most prolific and progressive Christian music scenes in the world. In terms of cause and effect, surely there were many influences on the growing West Coast scene, though a clear, pivotal cause was a supportive church community.

At the time, many California Christians were already comfortable with Christian rock, thanks to the influence of the "Jesus people music," so when a host of new groups emerged in the early '80s, many of the churches latched onto the movement and used pastoral experience to help guide these artists toward maximum impact. For example, some of the churches helped support the bands financially so these artists could spend their days traveling to public schools across the state, performing lunchtime concerts. In fact, this writer's brother actually became a Christian at an Undercover show in the early '80s when the band played Carlsbad High School in north San Diego.

Calvary Chapel Costa Mesa took this approach to the hilt. The Orange County-based church started hosting free, ministry-centered rock concerts every Saturday night, and they would use the lunchtime school shows to help bring kids out each weekend. The church, which already had the praise & worship label Maranatha!, eventually started a rock imprint called Broken for such local artists as Undercover, the Altar Boys, Darrell Mansfield and The Choir. Of course, Calvary Chapel Costa Mesa wasn't the only church starting record labels.

Up in Sacramento, the Warehouse Church launched Exit Records in 1982 with its inaugural release, the 77s' "Ping Pong Over the Abyss." Artists such as Vector, First Strike, Charlie Peacock and Steve Scott soon followed with Exit releases. Likewise, the Anaheim Vineyard started New Breed Records for one of its early artists, the Violet Burning, whose original alternative sound inspired countless other California groups such as the hugely popular Prayer Chain. Though many churches helped propel the California scene, there were still some resistant to the change that indirectly helped launch a new church and yet another musical movement.

After seeing too many instances of church kids persecuted for long hair and heavy metal dress, Bob Beeman began the L.A.-based Sanctuary Church in 1984 as a place for hard rock-lovin' Christians. Integrating rock music into its worship services, the church became fertile ground for a host of hard rock and metal bands. In 1987, these fresh new faces earned national attention with Regency Records' California Metal compilation, introducing such headbanging favorites as Neon Cross, Guardian, Deliverance, Mastedon, Barren Cross and others. That same year, Sanctuary sponsored the first Christian hard rock fest, the Metal Mardi Gras; and the scene simply exploded, lasting more than half a decade.

By giving the artists such a supportive community, the churches were able to offer them much-needed ministry direction and help to keep them more accountable in a very positive way. Likewise, the amazing music scene provided many redemptive alternatives for young people searching out fun on the weekends or on holidays like New Year's Eve. Rather than fight the tide, California's Christian community embraced the music and used it to reach a new generation of young people. Sure, the bands were innovative and ambitious; but the California scene would never have reached its zenith without the forward-thinking support of the local churches.

© 2004 CCM Magazine.  All rights reserved.  Used with permission.  Click here to subscribe.