GRITS' "Dichotomy A" Is Good to the Last Rhyme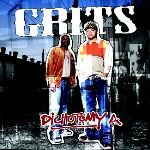 Artist:   GRITS
Label:   Gotee
Too often hip-hop celebrates profanity, violence, misogyny, braggadocio and "bling bling" — not exactly the kind of approach Christian musicians embrace. And yet, positive paragons have achieved mainstream success, from Grandmaster Flash to Arrested Development to Common. Though not part of the Christian industry, they reinforce a truth that applies to every Christian hip-hop act present and future: To win respect in the land of Slim Shady and Jay Z, you have to be artistically innovative and intriguing, first and foremost. And that often poses a problem in Christian music, where too many power brokers still tally Jesus mentions per song ahead of everything else.
The mentality with GRITS has always been different — and the new effort, "Dichotomy A," does not suffer for lack of ambition. (A second volume, "Dichotomy B," is slated for November release.) Yet when such ambitious projects surface, the musical question arises: Is it all killer and no filler?
On "Dichotomy A," the chips fall mostly in favor of Stacy "Coffee" Jones and Teron "Bonafide" Carter. Aided by dc Talk band alum Otto Price (tobyMac, Out of Eden), they've presented an album defined by supple, confident rapping and a nice spectrum of R&B stylings - from the Marvin Gaye-flavored soul of "Hittin' Curves" to the gospel-meets-blues confection "Mind Blowin'," spiked with Hammond organ and wah-wah guitar.
Diving into "Dichotomy" will only reveal more riches, as it boasts dense (but not daunting) melodic layers and lyrics that broach subjects from gangbanging ("Gutter Boy") to staking a claim for rap respect in Christ ("Bobbin' Bouncin"). There are moments of sonic fun, too: "Gutter Boy" suggests a spaghetti western dished up in dark Gotham City, with a side-dish of reggae, while "High" features synthesized gurgles and what sounds like a creepy Gregorian chant by androids.
That said, "Dichotomy" has moments of monotony, particularly in the backstretch. It would've been nice to hear GRITS forego some repetition within songs — which, while part of establishing groove, tends to prod the listener into tune-out mode. Also, in the intro to the second track, "Anybody," things get overly "preachy." On it, a female voice berates a friend who's made bad relationship choices; it's two minutes of smug finger wagging. When she self-righteously declares, "You just can't see because your vision is twisted," you can almost hear the biblically correct reply: "Yo! Yank the plank out of your own eye, sister!" GRITS should have considered cutting this intro and salvaging an otherwise decent track about alienation: "Seems my little light been getting' a little blurred."
Thankfully, "Dichotomy" avoids the sin of "more is more." Its 45-plus minutes are just enough, suggesting that maybe the best things come in split packages.

© 2004 CCM Magazine.  All rights reserved.  Used with permission.  Click here to subscribe.