Have a Very Merry Christmas Courtesy of Dave Barnes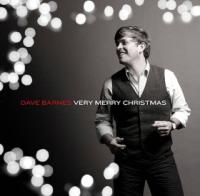 Artist: Dave Barnes
Title: Very Merry Christmas
Label: Razor & Tie

A Dave Barnes Original: Sugar and spice and everything nice …

On his first Christmas album, Dave Barnes' voice is pure sugar and spice. Barnes' trademark acoustic musings mark the majority of this collection, with the acclaimed singer/songwriter penning six of the ten tracks.

Lady Antebellum's Hillary Scott joins Barnes on one of his best holiday originals, "Christmas Tonight"—a modern-day version of classic duet "Baby, It's Cold Outside." The same timeless feel found on this track spans the tones of the entire compilation. "Meet Me at the Mistletoe" and "Holiday Made for Two" find Barnes crooning about love, romanticizing the holiday season and painting tangible scenes of Christmas parties and city streets filled with twinkling lights. The touching "Family Tree" (with subtle background vocals, courtesy of Brandon Heath), exhibit the depth of Barnes' songwriting as he eloquently sketches a charming portrait of finding shelter within family. Endearing lyrics reveal this line: "And I don't know where I'm going/ But I do know who I'll be/ These memories and names like leaves all hang on us/ The family tree."

As most of Dave's albums generally do, he also includes some faith-based songs including Harry Connick, Jr.'s "I Pray on Christmas," a bluesy, old spiritual with subtle nuggets of divine truths filling the verses. The closing song, "Mary and Joseph," is a loose interpretation of the Christmas story told in a unique way. The quirky track casts Mary and Joseph as ordinary people used in an extraordinary story. It doesn't precisely follow along the biblical storyline, but with the help of poetic singer/songwriter Thad Cockrell, who lends his sweet, twangy vocals to the song, Barnes succeeds in telling his sprightly Christmas narrative with grace and dignity.

In addition to a large store of self-penned tunes, he also covers three traditional holiday favorites, seemingly hand-picked to match the deep, heart-on-your-sleeve tone of his voice. And on both the traditional arrangements as well as his originals, he channels the savvy vocal styles of Harry Connick, Jr., mixed with his unmistakable bluesy guitar acoustics.

If you have been a longtime Dave fan or have recently discovered him through "God Gave Me You," Very Merry Christmas will be a very merry addition to your holiday collection.


**This review first published on November 25, 2010.
Check out Dave Barnes music videos at Godtube.com!