Hope is Alive in Steven Curtis Chapman's Beauty Will Rise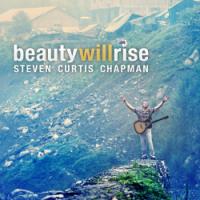 Artist: Steven Curtis Chapman
Title: Beauty Will Rise
Label: EMI CMG Distribution
Beloved songwriter pens personal Psalms …
"Heaven is a sweet, maple syrup kiss /And a thousand other little things I miss with her gone" ("Heaven Is the Face").
Though Steven Curtis Chapman has always related to his fans, he's never gotten as personal with his extended family of listeners as he does on Beauty Will Rise, his first recording since his daughter, Maria Sue, died in a tragic accident in 2008.
Battling out his doubts, grievances and despair with a pen and a guitar, the 20-year veteran singer/songwriter records his wrestling with God, holding nothing back and making this release his most-anticipated to date—though surely not for reasons he would have intended.
Chapman tracked more than half the album in makeshift rooms across the country while on the "United Tour" with Michael W. Smith last year, and the tracks are raw, exposing every nuance of the songwriter's intimate retelling of his family's 2008 nightmare. Mimicking a family stripped by grief, Beauty Will Rise is easily Chapman's most acoustic offering yet. And quite likely his greatest.
The bare-bones structure incorporates musical gestures of hope, using a colorful glockenspiel, bellowing chimes and triumphal timpanis to convince listeners Chapman's spiritual testing is not countering his steadfast faith. Even dissonant strings haunt the famous father's melancholic intimations, but without deterring the album's blunt beauty.
Melodically, these tunes are basic Chapman. But lyrically, each song is in stark contrast to his typical "up" fare. The realities of a sin-stricken world hit hard last year for the grieving father, and Beauty Will Rise is a journal born from surviving dark nights of the soul. And though the last track is hopeful for a season of rebirth, it is apparent for Chapman, spring has not yet sprung.
Check out all of the Steven Curtis Chapman music videos at Godtube.com.

© 2009 CCMmagazine.com. All rights reserved. Used with permission.

**This review first published on January 26, 2010.