Hymns: All Things Bright and Beautiful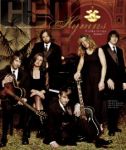 Let's face it: Hymns suffer from an image problem in many church circles today. Revered, yet dusty and quaint. Beautiful and insightful … as in that special way ninth grade lit teachers preach that Beowulf matters and makes sense.
But it's difficult in worship services today to find words resembling Joseph Hart's 18th century hymn "Come, Ye Sinners:" "Come, ye sinners, poor and wretched, weak and wounded, sick and sore; Jesus, ready, stands to save you, full of pity, joined with power. ..."
That's all about to change.
New albums dropping now and later this spring by the likes of Amy Grant, Ashley Cleveland, Out of Eden, Jars of Clay and a slew of others spotlight church hymns. Works from the familiar, such as Out of Eden's "Immortal, Invisible, God Only Wise," to the uncommon, such as Jars of Clay's recording of "Thou Lovely Source of True Delight," are cloaked in new, stylized tunes, landing in listeners' ears with straight-from-the-garden freshness. Such recasting is a practice that's existed among church musicians for centuries, but fell out of fashion during recent generations as particular texts started to be associated with specific tunes.
Is this another worship trend? Just happy coincidence? Some musicians say the modern worship movement was bound to swing another direction. Music tastes change. After all, just look at 2004's year-end album sales charts. According to SoundScan the genre of "modern worship" didn't even crack the top 10 of the year's best-selling Christian albums. Either way, worship continues to evolve.
So, brace yourself. The hymnal of today may be no further away than your iPod. If that seems strange, try thinking about what it would be like to explain digital downloads to hymn writers like Martin Luther (1483-1546), Charles Wesley (1707-1788), Fanny Crosby (1820-1915), Isaac Watts (1674-1748), Thomas Dorsey (1899-1965) and Anne Steele (1716-1778).
Discovering Identity
Theories vary, but historians suggest changing musical tastes — especially among "Baby Boomers" and as illustrated by the rise of praise & worship music during the last 30-plus years — and the diminishing draw of denominational churches contributed to the result that many Christians today have never sung "Come, Ye Sinners" and thousands of other church hymns typically characterized by a consistent meter and a four-line verse structure with a progressive theme.
Christian music's leading lady Amy Grant is glad that's changing. With more than 25 years in music, Grant's seen plenty of musical preferences ebb and flow. "I think what's going on today is a timely reaction to what's going on in the church. There's been so much interest in praise choruses. Now I think it's the pendulum swinging back the other way to reconsider hymns again," she says. "What I love about hymns is that they are steeped in theology. They go so, so deep into your soul."
The idea of a hymn is Greek, intending to be a song of praise in honor of the gods, heroes and conquerors. Biblical New Testament writers adapted the concept, narrowing Christian hymns to become praise songs honoring God, as found in Paul's writings to the Ephesians and Colossians. They complemented the Jewish (and later, Jewish convert) tradition of singing the Psalter. Across centuries and into today, hymns act like vessels containing fragments of Christian thought. They excel at praising God for being God — and at reminding believers that we are not God.
Grant affirms hymnody's ability to help shape personal and collective identity. They reconnect her, she says, to simpler times growing up in Nashville, Tenn., as a young musician soaking up like a sponge whatever church music she could find. "It's like going to a family reunion," she says. "You might not want to go at first; but once you're there and you start hearing stories, it's pretty amazing. You realize these stories are part of who you are." Hymns remind us, Grant says, that "this experience of faith is so much broader and deeper than what is before us today."
Following up her 2002 project, "Legacy … Hymns & Faith" (Word), Grant will release her second hymns record this spring. She says this project consists of songs she sang growing up in the Church of Christ tradition. "These hymns mean a whole lot more [to me today], having lived a lot of life," Grant says. "Even though I loved these hymns at 18, I feel today like my soul just breathes a deep 'Amen' to all of it now."
A Firm Foundation
On "Precious Lord, Take My Hand," from Ashley Cleveland's recent February release, "Men and Angels Say" (Rambler), the blues-inspired licks of a lone steel guitar make known this isn't what grandma remembers of Dorsey's famous text. Likewise, Cleveland's gospel-arranged "What A Friend We Have in Jesus" shuns sentimentality, replacing it with a stout spirit for celebrating, "Precious Savior, still our refuge, take it to the Lord in prayer."
Cleveland speaks convincingly about hymnody's powerful draw to God. She remembers leafing through hymnals as a child who didn't want to be in church. Years later, as an adult, those words would thankfully return to her. "I grew up in the Presbyterian church; but then over time, my life got as far from the church as a person can get, and I ended up being fairly strung out on alcohol and drugs," Cleveland says. "But the thing that would happen to me when I was very, very ill — these songs would come to me at the strangest moments.
"It was like a reminder that there was a God who loved me. It seemed to me that He was calling me back to Him," she continues. "These songs have pierced my soul in a way that no other music ever has touched me."
Near her Franklin, Tenn., home Cleveland now attends a Presbyterian church that blends modern worship music with church hymns, and she hopes other churches will try that approach. But Cleveland aims, too, to find inroads into places where these songs aren't typically heard. "I still play clubs on occasion, and the audiences are decidedly mixed, believers and non-believers, people from all walks of life," she describes. "I have yet to go in and play my set — which is always going to include at least a couple of hymns — and not have someone come up to me to specifically comment on a hymn. More often than not, I have people come up to me in tears, saying, 'I haven't heard that song in years,' telling me briefly that it was a connection for them."
Faith and Hope
As hymns connect us to our past, they provide a shared language across denominational and cultural lines. To that end, these works help shape visions for transforming the future. While traveling internationally [thus making a face-to-face interview and participation in CCM's cover story photo shoot impossible] Out of Eden's Lisa Kimmey tells via e-mail about the trio's experience at a Focus on the Family chapel service. "We sang a couple of hymns; and, all of a sudden, it was forgotten that we are a pop/R&B group," she says. "Our ethnicity, gender and style didn't seem to matter anymore. There was something very special about being able to communicate without expectation."
The experience set Lisa and her sisters, Andrea Kimmey Baca and Danielle Kimmey, down a path toward creating a present-day record grounded in shared experiences. Growing up, Lisa says she remembers singing classics like "Praise to the Lord, the Almighty" and "Fairest Lord Jesus," each recorded for Out of Eden's March 29 release, "Hymns" (Gotee). Though she and her sisters grew up in a charismatic church that didn't sing hymns often, the women were exposed to hymns through their grandparents' African Methodist Episcopal church in Richmond, Virginia.
"We used to visit, and I remember my grandmother, an opera singer, singing in the choir, praising God with songs I had never heard before. They had very traditional harmonies and music, but I remember even as a child thinking it was all very grand and beautiful."
Musically, "Hymns" finds the group skillful at creating innovative praise & worship, R&B and pop arrangements, sprinkling influences from Al Green (as on the Psalm-inspired "Be Still, My Soul") and Andraé Crouch ("To God Be the Glory"). Lisa, who produced and arranged the project, found a common thread that boosted Out of Eden's work. "Worship is what is done to please and bring glory to God," she says. And of her research to select hymns, she comments, "I discovered a simplicity and purity in the writers' motives that is very inspiring to me. There is no sarcasm, no cool, idiomatic expressions — just a human heart reaching out to God in desperation for inspiration."
Roots and Wings
To shape their emerging faith, college students and young adults are recovering church traditions, including hymns, to boost the authenticity of their Christian experience.
At the four-day Passion '05 event held earlier this year in Nashville, 11,000 college students gathered across denominational lines to pray and worship. Among the inevitable praise choruses were historical selections such as "How Great Thou Art," "Amazing Grace" and "Phos Hilaron" ("hail gladdening light"). Each was sung in full voice to modern tunes, according to recent college grad Lane Wood, a spokesperson for the event.
"Hymns remind us that this [worship and faith] isn't a new thing. People have been worshiping God for years and years," says Lane, who works with students at a Murfreesboro, Tenn., Baptist church. Like Cleveland, he advocates a mix of hymns and praise choruses, benefiting not only students but also to promote multigenerational worship.
Back on campus, students search for authentic experiences to validate faith. For almost 100 Reformed University Fellowship groups across the country, hymns are increasingly keeping students company on the journey. The Rev. Kevin Twit serves as the RUF campus minister at Belmont University in Nashville and produces the grassroots-driven "Indelible Grace" series of independent recordings recasting hymns. Twit says loyal listeners include evangelicals and mainline Christians all over. "I talk about a sign my mom found at an antique store once: 'My grandmother saved it, my mother threw it away and now I'm buying it back.' I think a lot of younger people are feeling that, saying [the "Baby-Boomer" generation] handed us Christianity with no connection to tradition."
To reconnect, rising alternative worship forms tap into the early church practices. Ancient-Future worship, championed by church scholar Robert Webber, finds intersections between classical Christianity and postmodern thought, reviving sacraments and liturgy. Emergent worship, described by author and pastor Dan Kimball, goes a step further as a multi-sensory experience of old and new church traditions. Add thinkers like Sally Morgenthaler ("Worship Evangelism"), Brian McLaren ("A Generous Orthodoxy"), Spencer Burke (author/ theOooze.com creator) and others, and it's clear a new day dawns for Christian worship. Hymns remain at the ready on the horizon.
"I wouldn't say that it's a majority of college students that will connect with hymns," Twit cautions, "but I do think that the people who connect with them are going to be the movers and shakers and the influencers of the coming generation."
Rev. Twit recalls a group of college-aged leaders he met nearly 10 years ago, men who yearned to dig deep into worship to discover God's character. Now, those men — Jars of Clay—are releasing "Redemption Songs: A Collection of Reinvented Ancient Hymns and Spiritual Songs" (Essential) on March 22 as their unique contribution to the current worship music conversation.
"This is our experience in worship," Jars' front man Dan Haseltine explains. "This album represents songs important to the way the gospel is moving and shaping us."
Guitarist Matt Odmark agrees. "One reason I feel really connected to hymns is that I feel they are written for basically good people who need a way to express how much they love God," he says. "That's me — people who have limped into church knowing they really don't deserve much from God."
The image we kept tossing around while making the record was the idea of roots and wings," keyboardist Charlie Lowell says, "digging into what's gone before us and giving flight to these words through new melodies." This generation of college students is looking for experiences that actually connect with the heart and soul and the [core] of what true faith is, what the gospel really means and how it gets played out in our lives," Haseltine says. Hymns step up to that challenge.
"Redemption Songs" is signature Jars of Clay and includes both familiar titles ("It Is Well With My Soul," "They Will Know We Are Christians By Our Love") and the uncommon ones, mined from hymnbooks ("Hiding Place, "O Come and Mourn With Me Awhile"). Its theme points decidedly toward restoration through the life, death and resurrection of Christ. Says guitarist Steve Mason, "We wanted to serve well the people that enjoy what we do already, but, as well, we wanted to be a bridge, turning people on to this art who maybe weren't familiar with it or thought it was for people with gray or blue hair."
"With these hymns, it's not that we've discovered a lost book of the Bible or that there is hidden truth that couldn't be seen the first time," Odmark says. "But we are constantly in need of having our eyes opened to these things that have been true all along, and hymns do that."
Inspired by a poem, hymn writer Paul Gerhardt wrote, "What language shall I borrow to thank thee, dearest friend?"
Indeed, how do we find words to express our great joy? Or expressions that kick at the darkness of uncertainty and despair? Hymns, like Psalms, give us words we cannot find on our own. And in times of war or in times of peace, we lean on hymns like theological poetry, allowing us to sit steadily and with hope in the mystery of all that might come our way.
O for a Thousand Tongues

Here's a partial list of recent and soon-to-release projects spotlighting hymns. Below, a reminder of hymns records aging well.

Beth Nielsen Chapman, "Hymns" — a hit songwriter, Chapman recreates Latin liturgical music from her childhood (BNC)

Ashley Cleveland, "Men and Angels Say" — Steve Winwood guests on "I Need Thee Every Hour" (Rambler)

Amy Grant, currently untitled — more personal favorites, including a new version of "El Shaddai" (Word)

Buddy Green, "Hymns & Prayer Songs" — features his signature folk style with guitar and harmonica backing his vocals (Spring Hill)

Jars of Clay, "Redemption Songs: A Collection of Reinvented Ancient Hymns and Spiritual Songs" — guests include the legendary Blind Boys of Alabama and Grammy-nominated new artist Sarah Kelly (Essential)

Bart Millard, "Hymned" — the solo debut from MercyMe's lead singer (INO)

Donnie McClurkin, "Psalms, Hymns and Spiritual Songs" — the CD/DVD set captures a rousing blend of high church and praise & worship (Verity)

Out of Eden, "Hymns" — includes a duet with Tree63's John Ellis (Gotee)

Jill Phillips, "Kingdom Come" (Fervent/Munce) — available exclusively in Munce stores nationwide, guests include Andrew Peterson, Christine Denté, Derek Webb and Sandra McCracken

Matthew Smith, "Even When My Heart Is Breaking" — indie artist Smith comes out of the Indelible Grace camp (Detuned Radio)

Various, "Indelible Grace" — the first of three albums in the series, the debut includes top independent artists Sandra McCracken, Andy Osenga, Katy Bowser and others (Indelible Grace Music)

Various, "Bridges: Classic Hymns, Modern Worship" — lineup includes Michael Tait, Marc Byrd, Paul Colman, Jill Paquette, Todd Agnew, Ginny Owens, Jason Ingram and others (Waterfront)

Various, "Her Hymns: The Writing of Fannie Crosby" — female artists focus on the work of this prolific writer (Rocketown)

Various, "Hymns4Worship: Just As I Am" — the second hymns release from the series; includes Israel, Crystal Lewis, Paul Baloche, Kate Miner and Sara Groves (Integrity/Time Life)

Various, "Hymns4Worship: Just As I Am" (DVD) — A live worship experience (Integrity)

Past Projects of Note

Margaret Becker and David Edwards, "Faithfully Yours" (Here to Him)
Amy Grant, "Legacy … Hymns & Faith" (Word)
Fernando Ortega, "Hymns of Worship" (Word)
Sandy Patty, "Hymns of Faith … Songs of Inspiration" (INO)
Various, "Hymns4Worship: Amazing Grace" (Integrity/Time Life)
Various, "Our Hymns" (Word)
Various, "Women of Faith: Faith for A Lifetime — Hymns of Extraordinary Faith" (Integrity)
Various, "Passion: Hymns Ancient and Modern — Live Songs of Our Faith" (Sixsteps)
© 2005 CCM Magazine.  All rights reserved.  Used with permission.  Click here to subscribe.