See You Tonight Takes Serious Steps
Ed Cardinal

Crosswalk.com Contributing Writer

2013

23 Oct

COMMENTS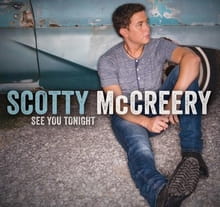 Artist: Scotty McCreery
Title: See You Tonight
Label: Mercury/19

Although he is just 20 years old, 2011 American Idol winner Scotty McCreery is wise enough to have publicly admitted knowing this second studio album, See You Tonight, won't get the same automatic attention that his debut did, but will live or die on good singing and songwriting alone. And to these ears it sounds like the fresh-faced, low-voiced college student is a survivor, because there's enough good, deep country music here to compete with the guys who are twice his age.

Scotty's youth plays into the charm of the first two cuts. "Now" is your typical get-this-party-started warm-up with a funky southern riff, while the title cut is guy-pines-for-girl through sweet melody. The refreshing difference is these songs don't imply drinking or a plan to "lay you down and love you right" (to quote a Luke Bryan hit) are necessary ingredients for a good time. That recurring hint of moderation serves McCreery as well as it has Idol winner Carrie Underwood.

There's also a pleasing nostalgic angle at work. Well-penned numbers like "Get Gone with You" and "Blue Jean Baby" are gentle, slow country pop that could have sprung from a 1978 jukebox without feeling out of time. The lyrical hook for "The Dash" has been done before—pondering that line between the years on a tombstone—but Scotty's thick baritone, some honey smooth backing vocals, and emotive pedal steel give the song a warmth often lost in modern production.

See You Tonight perks right back up with the summertime anthem "Feelin' It," co-written by popular Christian artist Matthew West and not too far removed from a Kenny Chesney jam. "Buzzin'" showcases the musicians with a thumping beat, flyaway fiddle, and that fire-on-the-fret board guitar solo thing Brad Paisley does so well. There's gonna be some dancing around.

Finally, McCreery takes serious steps toward artistic growth on two closing selections. Poetically pondering life and death, "Carolina Moon" comes down from the mountain with an appearance from Alison Krauss whose high lonesome tones perfectly match the Dobro-driven song. "Something More" sums up today's country music scene in a single shot. Acknowledging the prevalence of hits about trucks and drinking, he admits a longing to sing about something that means something more, like for example, knowing that man up on the cross in a crown of thorns.

Indeed, there's something more to Scotty McCreery and See You Tonight.
*This Review First Published 10/23/2013