Jars of Clay's Shelter Sounds a Clarion Call to Unity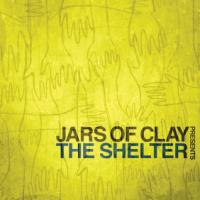 Artist: Jars of Clay
Title: Jars of Clay Presents The Shelter
Label: Gray Matters/Essential

So you're Jars of Clay. You've won gobs of Dove Awards, an armful of GRAMMY Awards, and you've got the kind of creative control most artists drool over: your own studio, even your own record label. What, pray tell, do you do next?

The answer probably looks something like The Shelter. Once again setting its own agenda, Jars calls on dozens of Music City compatriots for a joint venture, the band's eleventh studio album. It's not a globally-minded tour de force like 2006's Good Monsters, a pop gem like The Eleventh Hour, or a roots romp like Who We Are Instead. So what is it?

The Shelter might be the album Christian music has been waiting for. It's a clarion call to unity, a seamless marriage of form and content where not only is the band talking about community, it's actively engaging in it. The title track proclaims, "In the shelter of each other we will live." At times, Shelter feels like the City on a Hill projects, but that's an unfair comparison. Those were compilation albums. This one is all Jars of Clay, with its signature songwriting prowess, nuanced production, skintight harmonies, and, yes, acoustic jangle. But subtly dropping by are a bevy of Christian music chart-toppers (Derek Webb, David Crowder, Mac Powell, and Brandon Heath among them) and up-and-comers (Audrey Assad and Fireflight's Dawn Michele). And the group ably mans the rudder for an album of repeat-worthy songs. Highlights include the title track— immediately a heavyweight contender for "Song of the Year" with its cascading waves of choral vocals—as well as the anthemic "We Will Follow," and Powell and Haseltine's intimate duet, "Eyes Wide Open."

Jars has long had the remarkable ability to set the dialogue in Christian music, their debut pushing artists into the mainstream, and their nonprofit Blood:Water Mission keeping social justice at the forefront. And now, one gets the feeling they're doing it again. "Vertical worship" has been the rage for so long, that it seems Jars is realizing that one person, with "two hands, lifted high" isn't enough to make it anymore. As Haseltine eloquently asks on the Sara Groves-penned rocker, "Why carry on our own what's common to all men/Why drag your bag of bones to hell and back again?" I can't think of one single reason why. Where's that repeat button again?


**This review first published on October 7, 2010.
Find many popular Jars of Clay music videos at Godtube.com!