Joel Hanson, Mark Schultz, and PC3 - Feb 26 News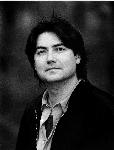 IF IT AIN'T BROKE – What to do when the disbands, when your record label gets bought and shuffled, and you find yourself back where you started?  Embark on a solo career, start your own label, and get back to your first love:  making music.  That formula seems to be working just dandy for Joel Hanson.  The former PFR front man recently released his second solo project, Broken, on his own label, Shiver Records.  "To me this new record represents a few things—when I find real brokenness I find true freedom," he says.  "Secondly, only truth can set you free, but few will brave the dangers of truth."  Already braving Christian radio is the title cut--co-written by Hanson, Rebecca St. James and Ted T--which was one of the most added singles at Christian AC and Inspo radio earlier this month.  For more about Joel and all things Broken, point and click over to www.joelhanson.com.

RETURN OF THE PIANO MAN – Word on the street is that Mark Schultz is headed back into the studio for round three.  And he's got some big shoes to fill as he follows up his über-successful self-titled debut and 2001's Song Cinema.  This time out, he's taking producer Brown Bannister with him, and so we're expecting great things.  We're also expecting a Dove Award or two to land in Schultz's hot little hands at this year's ceremonies, as he has received nods in two categories:  "Male Vocalist of the Year" and "Song of the Year" for "Back in His Arms Again."  Bonne chance, Schultz.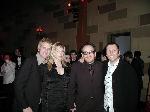 MEANWHILE, BACKSTAGE AT THE GRAMMYS – Essential Records' Paul Colman Trio rubbed shoulders with quirky rocker Elvis Costello and jazz-lite diva Diana Krall at this week's 45th Annual GRAMMY Awards in New York City's Madison Square Garden.  The Aussie transplants were nominated for "Best Pop/Contemporary Gospel Album" for New Map of the World (label mate Jars of Clay beat them out for the trophy with The Eleventh Hour).  And here's a related and interesting factoid of the day:  The PC3 lads hold the distinction of being the only debut artist nominated in their GRAMMY category and the only Australian band nominated altogether.