Jon Pardi Goes Against the Trend
Ed Cardinal

Crosswalk.com Contributing Writer

2014

28 Jan

COMMENTS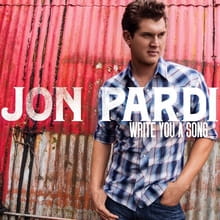 Artist: Jon Pardi
Title: Write You a Song
Label: Capitol Records Nashville

Coming to Nashville from California with a name that's ripe for well-played sound bites and tour slogans, singer Jon Pardi rocks the role of rowdy country musician just fine on his debut album, Write You a Song. Inspired by Georges Jones and Strait plus the Bakersfield sound of Buck Owens and Dwight Yoakam, he knows how to write clever hooks and memorable melodies that make him likeable even when that song is about taking to the bottle or trashing a hotel room—a rebel with an overriding soft side.

Still, one can't take his vices too lightly. From a musical standpoint, opener "What I Can't Put Down" is stomping good country somewhere between Justin Moore and Eric Church, but the lyrics accept defeat against whiskey and cigarettes from the get go. That same it-is-what-it-is resignation comes around again on the aw-shucks "When I've Been Drinkin'" and chugging, expletive-carrying "Empty Beer Cans."

Hit single "Up All Night" has more of today's country lyrical formula (dirt road, truck bed, 12-pack, weekend, midnight swim) and less obvious pitfalls, but it isn't the best representation of what makes Pardi stand out from the crowd. That honor goes to the blistering title track, an ode to love and the road packed with pedal steel, fiddle, and a vocal performance bringing to mind classics like "The Race Is On" and "Friends in Low Places." Radio could use a cut like this to help mix up the playlists right now.

The playful romantic side shown on "Write You a Song" gets far more serious and sweet on "That Man" as Pardi tells a platonic friend in a bad relationship how he would treat her better. The banjo-powered "Love You from Here" expresses an admirable level of dedication even after a breakup. And "Happens All the Time" has the easy shuffle and sing-along ring of a 1970s country classic as Pardi dreams of finding love that promises something reckless, something real—a decent definition of this new artist.

In context, Jon Pardi marks a decent change. He's going against the trend of turning country music into overproduced pop music. And unlike so many other guys on the scene, he doesn't blatantly ogle women when he sits down to Write You a Song. To a degree, that's something worth writing about.
*Published 1/20/2014