Jump5, Stacie Orrico, and Out of Eden - Mar 03 News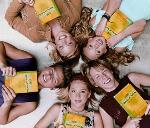 FOR YOUR BREAKFAST DEVOS – Start your day with Jump5 morning and you'll have a g-r-r-r-reat day!  Well, we can't promise you THAT much.  But if you do chow on Coca Puffs, Trix, Cinnamon Toast Crunch, Lucky Charms, or select other General Mills cereals this month, you'll find a CD including Jump5's "All I Can Do" (from August 2002's All the Time in the World) in the cereal midst.  And for an even more super smart start to your day, be sure to pair that up with the new tween (kids 8 to 12) NIV Devotional Bible from Zonderkidz called The Edge.  Fortified with full-text of God's Word, 260 daily devotions, and 52 weekend devotionals, The Edge might be just the healthy choice for young souls in your life.  Jump5's Libby Hodges sez…"It's written specifically for 'tweens' and is a great resource for finding out answers about God, friends, and life in general."  Hitting stores this April, The Edge is being promoted by Jump5 in concert, as well as on their website, www.jump5.com. 

"STUCK" ON TRL – For your mid-day sonic nourishment, be sure to tune in to MTV's TRL (Total Request Live) on Wednesday, March 5, 2003 for an airing of Stacie Orrico's "Stuck" music video from her March 25 self-titled album on Forefront Records/Virgin Records.  Be sure to tune in and vote for Stacie!
NO THANKS, BRITNEY AND CHRISTINA - Teen girls looking for a positive role model whose walk actually matches her talk should look no further than Out of Eden.  The Gotee Records trio of sisters (Lisa Kimmey, Andrea Kimmey Baca, and Daniellle Kimmey) has created the "Out of Eden 'This Is Your Life' Event" in conjunction with Interlinc.  Based on their 2001 release, This Is Your Life, the curriculum kit includes a six-session video (with discussion starters, Out of Eden interaction with young women, music videos, and two previously unreleased live performances), one six-session leader's guide, student devotionals, and This Is Your Life CDs.  Since each session is titled after a song on the album (topics include "Personal Destiny and Purpose", "Security and Acceptance", "Modesty and Fashion", "Dating and Sexual Purity", "Abuse", and "Parental Relationships"), teen girls will be reminded of what they learned every time they listen to the CD.  Now that's a cool concept.  What else is cool are special appearances by Stacie Orrico and her father, Plus One's Jason Perry, and others.  For more information or to order now (before the curriculum hits the stores!), go to www.outofedenonline.com.