Karen Clark Sheard Continues the Legacy with All in One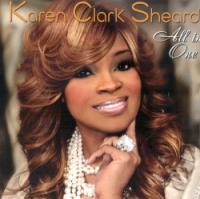 Artist: Karen Clark Sheard
Title: All in One
Label: Karew Records

Gospel legend only adds to the legacy …

The Clark legacy is certainly an impressive one. The family's gospel roots run deep, and they continue to set the bar with each and every release—no matter which family member is involved. And Karen Clark Sheard, a member of the famous Clark Sisters, stands in the center of it all.

With a history of GRAMMY wins and chart-topping albums, Sheard looks to build on her family name with All in One, a rollicking gospel/soul stomp through every conceivable emotion and expression. Lead single "Prayed Up" conjures Sheard's background with Hezekiah Walker and Kirk Franklin and would be powerful with a choir. In the studio, it loses a bit of its power; but it's not difficult to imagine what could be.

"He Knows" utilizes Auto-Tune, and the result is a bit disconcerting. Sheard's vocal is much celebrated on its own without having to resort to the latest tech trends. A great example is found on "Because of You," where Sheard's soulful delivery takes center stage and never lets go. "Take Me" is the most inventive track on the album, with an undeniable groove and fantastic vocal arrangement.

Several songs here are conducive to both individual and corporate worship gatherings, giving All in One sales life in several outlets. More than anything, the album bolsters a name already synonymous with gospel's greatest pioneers.

© 2010 CCMmagazine.com. All rights reserved. Used with permission.

**This review first published on May 11, 2010.