Kearney Still Refreshing on Sophomore "Lose"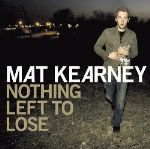 Artist:  Mat Kearney
Title:  "Nothing Left to Lose"
Label:  Aware/Columbia/Inpop
When newcomer Mat Kearney's debut album, "Bullet," released in the fall of 2004, it signaled the arrival of a refreshing talent. Kearney's blend of spoken/ rapped verses and melodic choruses built on ground laid by artists such as G. Love & Special Sauce and the curiously popular surfer-singer Jack Johnson.

"Bullet" produced the Christian radio staple of the same name and saw Kearney tour with MuteMath, The Fray, Cary Brothers and others, as well as land a deal for the general market with ultra-smart Chicago label Aware Records (John Mayer, Train, Five For Fighting).
On "Nothing Left to Lose," Kearney keeps five of "Bullet"'s tracks and adds another eight for good measure. Intact are the engaging and urgent rap/sung verses that expressed such personality and verve on the debut ("Undeniable," "Girl America," "Bullet," Renaissance"). Also on display is Kearney's own inner Chris Martin (Coldplay), with vocal and melodic sensibilities that come dangerously close to mimicry on a few songs ("Won't Back Down," "Nothing Left to Lose," "Crashing Down") and yet rise above cliché by sheer force of their fine execution.
Kearney is an able lyricist, painting highly personal pictures of broken-hearted people with great hope and declarations of fidelity to friends and faith. His finest lyrical gift is the ability to find evidence of divine attention all around, without being simplistic or intentionally obscure. His greatest missteps are in the aforementioned musical parroting of Coldplay on a few songs. It is with those that he loses the urgency of his earlier material and can't quite find his own voice as he does convincingly on newer songs such as "What's a Boy to Do" and the beautifully simple "Where We Gonna Go From Here." Those songs deliver some of Kearney's deftest lyrical touches as well as a musical fingerprint that is all his own.  
Kearney has talent for days and, at his finest, is one of the most refreshing voices in recent years. His blending of hip-hop sensibilities with singer/songwriter melodic substance is among the finest of anyone working with those influences. He will be an exciting artist to follow, and, as he owns his strengths more completely, he may well be the one copied.  


© 2006 CCM Magazine.  All rights reserved.  Used with permission.   Click here to subscribe.