"King in a Rookery" Takes Pivitplex Light Years Beyond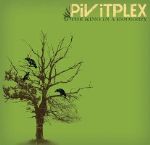 Artist:  Pivitplex
Title:  "The King in a Rookery"
Label:  Selectric Records
In 2003, Pivitplex released its debut on BEC, "Under Museum Quality Glass." That was a good record, but, beyond the Christian radio hit "You Know," it didn't get much attention.
Fast forward three years to the band's stunning new sophomore release,  "The King in a Rookery" (Pivitplex is two-for-two on incredible album titles), which shows little to no resemblance to its first record. The songwriting, production and performance are light years beyond that debut. In fact, I don't think I've ever known a band to change and mature this much between releases. Lead singer Scott Brownson, bassist Josh Ogle, guitarist Joby Rudolph and drummer James Clark bring a fresh artistic approach to the popular Brit rock sound, assisted by award-winning producer Jason Burkham (Building 429, The Swift).
The band's transformation has taken it from a straight-ahead modern rock outfit to one of the most creative and interesting groups going. It all starts with the songs, which are hooky, melodic and truly unforgettable, including my current personal pick for "Song of the Year": "End of the Line." This track features influences ranging from modern alternative pop rockers such as Fountains of Wayne and Jellyfish to The Beatles and the layered vocal harmonies of The Beach Boys; yet, it never loses its contemporary rock feel. If only more bands could write and sing infectious hooks with the ease and skill that Pivitplex deftly achieves here!
Great guitar riffs, odd instrumentation, strings and intricate vocal arrangements litter the landscape of this record, making it an artistic gem and an interesting listen from start to finish – another rarity for full albums these days. Fear not, there are commercial nuggets and radio singles here as well, including "The Deal," a catchy alt-power-pop track for the MTV rock set (see Relient K and Click 5), and "I'm Alive," which should be an easy Top 10 single on multiple Christian radio formats.
"You're gonna take a hit to the way you've been thinking/ To find when you lose it all you gain so much more." These words, from the song "End of the Line," sum up what will happen when you delve into the intelligent and thought-provoking lyrics on this album. One of the best and most memorable hooks is from "It's Our Time," when Scott so passionately sings, "We're part of a generation of massive dreams and hair-brained schemes of love/ There are people who stand in line to freeze our minds and say it's not our time/ Will you stand with me?/ Will you sing with me?/ We'll show the world that it can be." There is nothing trite or immature here; this is well-crafted prose that will move you, make you think and feel.
From the music to the lyrics, "The King in a Rookery" is an unbelievable alternative power-pop masterpiece. Pivitplex has delivered its answer to "Sgt. Pepper" and "Pet Sounds." 


© 2006 CCM Magazine.  All rights reserved.  Used with permission.   Click here to subscribe.