Less Rock, More Pop Found on Britt Nicole's Lost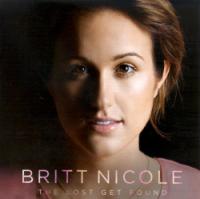 Artist: Britt Nicole
Title: The Lost Get Found
Label: Sparrow Records
Second set matures winsome songstress …
Pop fans, watch out! There's a new girl on the scene and her music is hot, hot, hot! Well, Britt Nicole isn't exactly a "new" artist, having released her debut Say It to a good amount of critical acclaim two years ago. But with less grungy rock, more slick pop and verses that delve a little further into issues that plague young women in America today, this may be Britt Nicole all grown up.
Don't get me wrong. The Top 40 beats, hooky refrains and upbeat demeanor still shine prominently throughout, but you can say goodbye to the dark locks and bright-colored hoodies of yesteryear. This go-round, Nicole tames her inner rocker chick and steps up the ladylike charm, personified perfectly by her beguiling stare-down cover shot. Not that the album's jacket always dictates the music within, but for Nicole, The Lost Get Found is a subtle makeover.
With an affective, radio-ready chorus that urges listeners to reclaim the fire of faith, the title track is a perfect example of Nicole's hip, meaningful pop. Revealing our unwillingness to step out and make a difference for Christ, the lyrics honestly ask: "When you get the chance, are you gonna take it?/There's a really big world at your fingertips/And you know you have the chance to change it… Don't be afraid to stand out/That's how the lost get found."
Oscillating between vulnerable tracks that vocalize the struggle to surrender to God and sunny tunes of sheer fun, The Lost Get Found is an attractive set list. And though the lyrics may be a bit vague at times, this is pop music, and excellent pop music at that.
© 2009 CMCentral.com. All rights reserved. Used with permission.




Visit CMCentral.com now and join the single largest online community of Christian music fans on the internet. CMCentral features daily music news, exclusive interviews, album reviews, weekly devotions and feature articles written by some of your favorite Christian artists, and much more. CMCentral is also the home of the most popular Forum for Christian music fans that you'll find anywhere on the Internet. Come see what all the buzz is about!

**This review first published on September 22, 2009.
Watch the latest Britt Nicole music videos on her official Godtube.com artist page!