"Little Band That Could" Has Come into Its Own on "Undone"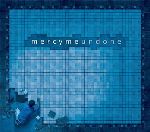 Artist:   MercyMe
Label:   INO
Still riding the tidal wave of mainstream success that unexpectedly followed the hit song "I Can Only Imagine," MercyMe returns with its third major-label release, "Undone." As providence would have it, the band's sophomore album, 2002's "Spoken For," became somewhat overshadowed by the sudden resurgence of "Imagine," which appeared on the group's 2001 INO Records debut, "Almost There."
Reverse chronological popularity aside, MercyMe now finds itself poised at the forefront of Christian music. And while expectations – never mind the recording budget – are high, only time will tell if the band can sustain the momentum that has carried it. 
Refusing to rest on any laurels, however, the six-member ensemble reemerges with its most mature, personal recording to date. The disc sports a mixture of mid and up-tempo selections in the adult contemporary pop/rock vein, providing several tracks with Top 40 potential. One surefire hit is "Here With Me," the album's first single, which is already charting in the top 20 at mainstream radio. A captivating piano-driven ballad, the song vividly conveys the wonder of God's omnipresence and holiness and features a rousing crescendo rivaling that of "Imagine." It's here and on songs such as the effervescent "Caught Up in the Middle" where the ever-maturing proficiency of lead vocalist Bart Millard shines brightest.
Once again, MercyMe renders an abundance of spiritually vertical content, but this time around the band also unveils its share of soul-bearing stanzas. Consider this portion from "Never Alone": "Someone tell me how/ I stumble into doubting all the time/ Some days I'm all together/ And other days I stand here asking why."
If little else is proven with this project, one thing is definitively confirmed: Millard is the captain who steadies the Mercy ship. Time and again he delivers lyrics with such passion and determination that even skeptics will give credence to his harmonic discourses. In "Shine On," for instance, whenever he asks "…how can we light the way/ If we don't go to them," the conviction reverberates like thunder. Then there's the emotion-laden cut "Homesick," where he fervently belts out "Lord won't you give me strength to make it through somehow." Not since John Elefante has a more powerfully resolute voice sprung forth in this genre. It certainly makes one hopeful that Millard and MercyMe will carry on the sentiment expressed in "Keep on Singing": "I gotta keep singing/ I gotta keep praising Your name." May it be so.

© 2004 CCM Magazine.  All rights reserved.  Used with permission.  Click here to subscribe.