Mary Mary Mixes R&B, Gospel and More on The Sound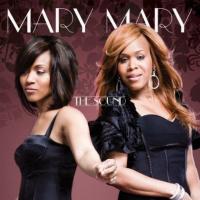 Artist: Mary Mary
Title: The Sound
Label: Columbia Records
Sister act continues celebrity climb with explosive new album …
It has been almost a decade since Mary Mary released its brand of soul to the masses, taking gospel music by storm and creating a remarkable impression on the greater music arena.
Its bio is a comprehensive listing of GRAMMY, Dove, Stellar and American Music Awards as well as a completely Gold and Platinum discography. Now, three years since the dynamic duo's self-titled third studio project, Erica and Tina Campbell release The Sound.
Continuing their hit-making résumé, The Sound issues a musical force that erases any preconceived notions of Mary Mary's capabilities. From the get-go the sisters lay down the law, respectably inserting elements of not only R&B and gospel, but electronic, dance, vintage soul and straight-up pop.
The title track opens the faith-based exposition with the singular most interesting Mary Mary song to date. Broadcasting a Motown throwback, the legit sister act breaks loose with a raw arrangement of dirty horns, loose snares and slammin' vocals.
The first single, "Get Up," lets the listener know the girls still have their slick R&B shine with polished programming and a feisty call to action: "What are you afraid of?/Don't you know what you're made of?/One of God's greatest creations/Take this invitation now/Get up."
"Boom" and "I'm Runnin'" continue the spirit-filled creativity with pronounced singular string lines highlighting the dry, retro vibe that infectiously caters to the duo's uniquely individual voices. And "I Worship You" is another reverent witness ballad, a classic inclusion and one of the most anticipated moments on each Mary Mary recording.
Guest appearances abound on The Sound, a testament to the group's popularity. Kiki Sheard contributes to "God in Me." "It Will All Be Worth It" features an inspirational Marvin Winans, and rap artist David Banner breaks down his personal testimony on "Superfriend."
Mary Mary possesses mesmerizing talent, and The Sound is yet another rich gift from the superstar sisters.




© 2008 CMCentral.com. All rights reserved. Used with permission.




Visit CMCentral.com now and join the single largest online community of Christian music fans on the internet. CMCentral features daily music news, exclusive interviews, album reviews, weekly devotions and feature articles written by some of your favorite Christian artists, and much more. CMCentral is also the home of the most popular Forum for Christian music fans that you'll find anywhere on the Internet. Come see what all the buzz is about!

**This review first published on November 13, 2008.