Matt Wertz Integrates Funk, Jazz on Sophomore "Everything"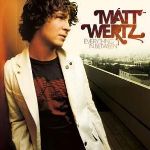 Artist: Matt Wertz
Title: "Everything in Between"
Label: Independent
Proving that a record deal isn't always a prerequisite for success in the music biz, wannabe-shoe-designer-turned-singer/ songwriter Matt Wertz has gained a fiercely loyal following as an indie artist. Need proof? Just check out his popular MySpace page (myspace.com/mattwertz).
Now, if that buzz wasn't already enough to secure his place as an artist on the rise, well, an opening slot on Jars of Clay's "Good Monsters Tour," not to mention a well-crafted sophomore release produced by Ed Cash (Chris Tomlin, Kathy Mattea), shouldn't hurt his efforts, either.
With the sensitive, heart-on-his-sleeve style that's served the likes of John Mayer, Gavin DeGraw and Bebo Norman so well in the past, Wertz weaves together 10 short but memorable tales of love, loss and heartbreak on "Everything in Between." But, instead of sticking with the tried-but-true, guy-with-a-guitar soundtrack that's been utilized countless times, Wertz integrates a little funk and jazz into the mix, which inevitably ups the ante musically.
In fact, on the catchy opener, "The Way I Feel," Wertz even invites mainstream crooner Marc Broussard along for the ride, which adds additional punch to the song's down-home flavor. Then, for the more folksy strains of "Carolina," Wertz teams up with his roommate and fellow artist Brandon Heath on what's ultimately another stand-out cut.
And, while those searching for more blatant spirituality (as on Heath's debut, "Don't Get Comfortable" ) won't necessarily find that as much here in Wertz's lyrics, the project takes a refreshing, unforced turn in that direction with "I Will Not Take My Love Away," a confessional, folk laden account of God's faithfulness that'll certainly resonate with new and old fans alike.


© 2006 CCM Magazine. All rights reserved. Used with permission. Click here to subscribe.


Be sure to watch Matt Wertz music videos at Godtube.com.