Get Ready For A Miracle
Ed Cardinal

Crosswalk.com Contributing Writer

2012

19 Nov

COMMENTS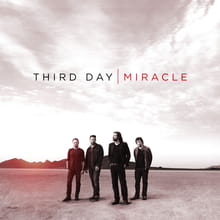 Artist: Third Day
Title: Miracle
Label: Essential Records

With so much radio, sales, and touring success already under its belt, premiere Christian rock band Third Day doesn't have to prove anything to anyone anymore. How pleasing it is then to discover the Georgia outfit's twelfth album, Miracle, comes in with the show-stealing spark of a hungry beginner. Working for the first time with A-list producer Brendan O'Brien (Pearl Jam, Bruce Springsteen), the seasoned quartet sounds both raw and polished on this enjoyable set.

It's easy to draw comparisons between O'Brien's work with Springsteen and what he does for Third Day. Intense four-on-the-floor opener "Hit Me Like a Bomb" instantly attacks one's ears as "Radio Nowhere" did back in 2007, while the acoustic-led "Kicking and Screaming" is brighter, Byrds-flavored pop that jangles along like The Boss on 2009's "Surprise, Surprise." The latter clearly shows a band still finding new creativity within itself even after two decades.

At heart Miracle offers a big sound with more crossover potential than some of Third Day's past efforts. We know fine-tuned rocker "Your Love Is Like a River" will inspire true worship, but its well-crafted lyrics could also double as romantic poetry. It's the same story on the smooth "For the Rest of My Life" where the biggest news is that deep-voiced front man Mac Powell can sing falsetto quite nicely—another fresh direction for this band.

First single "I Need a Miracle" is the best example of the group's forward motion. Like Carrie Underwood's "Jesus Take the Wheel," it's a carefully arranged storyteller song about having faith in God, touching on universal themes that would even speak to a nonbeliever.

Fans wanting a solid dose of the classic Third Day southern rock sound will find it on the note-perfect "I Want to Believe in You"—thick with sweet harmonies and concert-opening energy.

Even better is "The Victory," a bluesy spiritual stomp reminiscent of U2's Rattle and Hum era and marked by Tai Anderson's expressive bass playing and a fun tempo change trick. And "Time's Running Out on Me" takes its influence from R.E.M. circa 1987, Mark Lee's amped up guitars and David Carr's commanding drums making for the most fist-pumping jam in this mix.

When a band's catalog reaches twelve albums deep, off-the-cuff opinions will dramatically vary ("They're phoning it in." "This is surely their finest moment!"). Given some time, Miracle really should hold up as one of Third Day's best-conceived releases.
*This Review First Published 11/19/2012