Modern Pop Found in Everything You've Been Looking For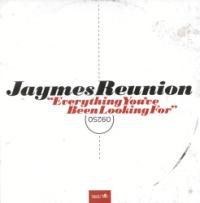 Artist: Jaymes Reunion
Title: Everything You've Been Looking For
Label: BEC Recordings

With a wide variety of influences ranging from Paul Simon to Keith Urban, newcomers to the Jaymes Reunion brand might assume the West Coast quartet's recorded product is a dizzying soiree of genres. But the young collective's first full-length record is simply modern pop with a slightly retro slant thanks to Cameron Jaymes' lead vocal hints at vintage soul and a plethora of diminished chord progressions, casually tapping into earlier eras of the band's list of musical affectations.

"More Than a Day," previously heard as an acoustic track on 2009's self-titled EP, inaugurates the twelve-song LP with a full band shout-out to the pop/soul digs mainstream acts like Maroon 5 and Gavin DeGraw have popularized over the past several years.

Jaymes' sweet vocal chops carry "Forevermore," a sparsely accompanied song of commitment, from "in love" infatuation to a vow-driven charge, and "My Song" begins in a similar acoustic fashion before popping into a full-rock throttle in yet another young love confessional.

Two re-inclusions from the aforementioned EP, "Let it Shine" and "Fine," are still a cut above the rest, with the piano-pulse of the former and groove-oriented hooks of the latter infecting every line.

But though the music sparkles bright, hardly a flame of spiritual matter burns. The musical portion of Everything You've Been Looking For salvages the extra star awarded in its thin 3-star rating, as it would be hard to justify a below average applause for such a tight musical effort—no matter how lyrically banal.

After two EP's in two years, it is a relief to finally hear a complete CD from the fellas. But what sacred thematic obscurity was dismissed in the intro products is hard to ignore in Everything You've Been Looking For—an ironic title considering Jaymes Reunion's supposed "CCM" status.

© 2010 CCMmagazine.com. All rights reserved. Used with permission.

**This review first published on June 10, 2010.


Check out Jaymes Reunion music videos at Godtube.com today!