More Than Enough to Justify Playing "Thesis" CD in Your Ride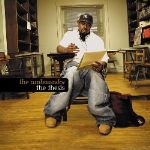 Artist:  The Ambassador
Title:  "The Thesis"
Label:  Cross Movement
Since rap is such a delicate art form, those who listen to the more sanitized rhymes never want to simply trade profanities for less hungry rhythms and lackluster lyrics. The music doesn't have to be hardcore, yet no real "hustla" wants his rap toned down – after all, what are the sub-woofers in the trunk for? It's an uneasy marriage, but on his new disc, "The Thesis," The Ambassador (a.k.a. William Branch) keeps it clean enough to eat off of, while diligently preserving the necessary "crunk" factor.
While "The Thesis" is his second solo effort, The Ambassador is primarily known as a member of The Cross Movement. However, he pulls a Beyoncé here – of the 18 tracks on this album, there's more than enough to justify playing this in your ride.
As on most rap projects, samples really kick up the hook, and the first track "Thesis Pieces" finds a child warbling "Jesus makes everything right" to lock in the chorus. The third track, "Amba-ss-ador" spells out a fantastically catchy, if not altogether original hook (think U-S-H-E-R). Overall, the choruses are faultless. … It's the verses that tend to drag, perhaps due to the hefty task of professing a sophisticated gospel rather than girls and Hennessy in slang format.
The next highlight is "Song For You," a tune with a predilection for a staticky Bone Thugs 'N Harmony before it slams into "Psych! Didn't think it was a slow jam, did ya?" Other gems are "Feels Good," an R&B-tinged collaboration with Dá Truth and S•O•U•L where The Ambassador hits his stride with close-shaven lyrical invention, and the poignant "My Clothes, My Hair," which reflects the ever-present struggle with body image: "Can he love me/ Will he even care/ when he sees my clothes/ or when he sees my hair?" And the ebullient hooks on "Oh Wretched Man" and "Back Home" are some of The Ambassador's finest moments.
Listeners may or may not appreciate the disc's multiple pop culture references, but at least The Ambassador knows his Louis Vuitton and Snoop Dogg. "Ma, you don't have to drop it like it's hot," he consoles on "Get You Open." 
The Ambassador could rap more briskly, pop his syllables and tighten up his rhymes a bit, but he is more than easy on the ears. The beats are energetic, at times addictive, and many would argue this offering manifests the most authentic rap presence since GRITS' latest disc.


© 2005 CCM Magazine.  All rights reserved.  Used with permission.  Click here to subscribe.