More Than Noise Doesn't Break the Mold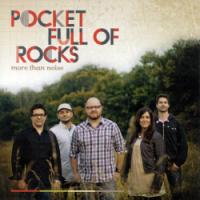 Artist: Pocket Full of Rocks
Title: More Than Noise
Label: Word Entertainment

Reverent but unremarkable praise …

Though always a staple on the underground worship scene, Pocket Full of Rocks didn't achieve household recognition until Michael W. Smith covered "Let It Rain" on his platinum-selling project Worship.

From there, the group inked a deal with the recently revived Myrrh Records and is currently dropping its third studio CD. Like its previous two projects, More Than Noise finds the group turning in a mildly likeable, albeit generally unremarkable, batch of praise tunes that don't break the genre's mold but are no doubt reverent with their intention.

Under the glistening production of Ed Cash (Chris Tomlin, Steven Curtis Chapman), the five-piece band turns in tight but typical vertical pop with tracks like "Alive" and "Strong," recalling the less progressive era of MercyMe or the generic flavors of Big Daddy Weave. The ballad "Come as You Are" tells the timeless truth of unconditional grace, which will surely resonate with those on their last strand of hope, despite the middle-of-the-road delivery.

Ironically, a re-recording of the group's very own "Let It Rain" is the hands-down highlight of the album, not just because of its familiarity but due to a swelling arrangement that overflows with passion and power. It's too bad that creative drive couldn't continue on the rest of collection, which isn't to say Pocket Full of Rocks doesn't possess talent but is once again playing its cards way too safely.


© 2010 CCMmagazine.com. All rights reserved. Used with permission.

**This review first published on April 20, 2010.