Mr. Del Stays on Trend with Hope Dealer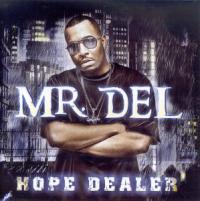 Artist: Mr. Del
Title: Hope Dealer
Label: Holy South/EMI
Academy Award winners Three 6 Mafia, had their time in the sun long after Mr. Del left the group to form Holy South Records and a thriving solo career.
Building on two decent releases and 2005's The Future (courtesy of Outkast producers Organized Noize), Del stays on trend with Platinum producer Drumma Boy (Young Jezzy) for some chart-topping minimalist crunk flavor.
Potentially less accessible to the casual listener than The Future, Hope Dealer is a pounding tide of ominous synth strings, swirling blips, cracking snares, driving high hats and ground shaking bass. Rather than being dressed up for church-goers, this music is made to simultaneously challenge the heart of the corner dope dealer ("Block Knocked Off") and give the clubs something legit to snap to ("U Can Do It").
Although a few tracks fall flat, the majority shine with cameos from the likes of former Three 6 lady lyricist Gangsta Boo and other members of his Holy South clique. Del smartly closes with a crescendo, a street symphony ("Church") worth the price of the whole release. If there is any justice, Dealer will be banging hope and shaking a lot of drop tops.

© 2007 CCM Magazine. All rights reserved. Used with permission. Click here to try a free issue.