Needham's "Speak" an Adequate Musical Beginning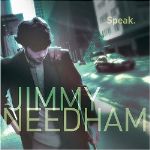 Artist:  Jimmy Needham
Title:  "Speak"
Label:  InPop Records
When the Apostle Paul wrote about being saved, he often used terminology that created a picture of the stark contrast between these two life experiences.

He compared life before and after Christ by contrasting the life of a slave to that of a freed man. One of the key points that Paul goes out of his way to drive home is that a freed man would never live his live as though he were a slave. Yet as Christians, many of us still live under the bondage of the sin from which we have been freed by Christ.
With a bold attitude and desire to share true freedom with others, Jimmy Needham was signed to Inpop Records after he'd already made a name for himself on the college scene. His debut release for the label,  "Speak," offers a message of hope and encouragement to all who will listen. The title track serves as a call to Christians against the fear that many of us face when it comes to sharing our faith with others. The rest of the album covers many of the teachings of Paul including becoming a new creature upon salvation ("I Am Free"), experiencing life as one who has truly been set free ("For Freedom"), and relying on grace rather than works to secure our salvation ("Stand on Grace") among others.
As a singer songwriter with a strong leaning towards the blues and soul music, it's not surprising that Needham has drawn comparisons to the likes of Jason Mraz, Gavin DeGraw, and other popular act. However, despite some stylistic similarities and the tendency to occasionally embellish a vocal run a la Mraz, the comparisons could actually prove to be his downfall. The songs on "Speak" generally incorporate a much simpler structure than that of the others and the vocals aren't nearly as strong or rich. That said, the album does present a clear and focused approach that will appeal to a fairly wide audience and some of the charm that surely got him signed can be found on tracks like the ballad "Dearly Loved" and the jaunty track, "Fence Riders."
To be perfectly honest, this could have been a great album. This could have been the album that all of contemporary Christian music gets behind and holds up as a strong album that would cross market boundaries and become a classic. Unfortunately, while it's still an enjoyable listen, it lacks the completeness of such an album. There are times when it simply feels sloppy and forced and those moments take their toll on the overall album. What is clear, however, is that with a little more attention to detail, Jimmy Needham may still have that album in him. "Speak" proves to be an adequate beginning to a potentially strong career.


© 2006 CCM Magazine.  All rights reserved.  Used with permission.   Click here to subscribe.