New Band, About a Mile, Can Go the Distance
Ed Cardinal

Crosswalk.com Contributing Writer

2014

28 Jul

COMMENTS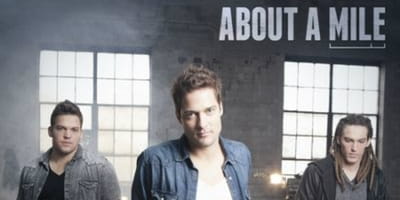 Artist: About a Mile
Title: About a Mile
Label: Word Records

If you can get past that looking-too-hard-for-a-religious-hook band name ("Jesus carried His cross about a mile; how far will you carry yours?"), the self-titled debut album from About a Mile is worth a look for loyal fans of Christian music who generally prefer alternatives to general market hit makers.

This trio of spiritually sincere brothers from Pennsylvania got the attention of award-winning producer Ian Eskelin (Sidewalk Prophets), and he makes sure there's a little something in the mix for every radio programmer across the spectrum from adult contemporary to rock. Innovation isn't the strong suit here, but should you miss late '90s/early '00s guitar rock, these guys can take you back with a twist of faith.

It's easy to compare About a Mile to Lifehouse since lead singer Adam Klutinoty's voice is similar to Jason Wade's. You can hear it on the opening anthem "Satisfied" as well as the acoustic-laced "He Won't Stop Loving You." Both testify in plain speak to God's goodness, the former declaring, "Let Your song be the song I sing through the blessings and burdens this life will bring."

There's also a definite Goo Goo Dolls vibe on "Who You Say You Are"—the telling mix of smooth symphonic strings and grittier electric guitars—and the vividly stated "Oxygen" where the standout melody carries these words: "Life without You is like trying to breathe underwater." And there's a potential hit in "Right Now," an especially poppy tune with another gripping line about the delicate nature of belief: "Right now, if I'm being honest, I'm barely hanging onto Your promise."

Despite those lyrical depths, About a Mile flirts with youth market gimmicks on "In with the Out Crowd" and "I Hate Hate," so-called edgy tracks that try a little too hard to be the cool kids in this otherwise natural-sounding set. And a heavy fine is due for the uninspired line in "S.O.S. (Hope Won't Let Go)" where someone is "going down like a zeppelin of led."

Looking at the entire journey, however, About a Mile shows enough talent and insight to keep going. Witness the atmospheric final track, "Trembling," written solely by the band and thoughtful in its focus on the nature of God, topped off by a well-placed nod to the 1899 hymn "Were You There (When They Crucified My Lord)." It will be interesting to see where this first album takes the band.
*Publisheed 7/28/2014