New Trio Blends Country, Rock and Pop on 33Miles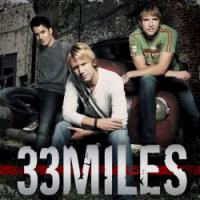 Artist: 33Miles
Title: 33Miles
Label: INO
With a name that refers to the 33 years that Jesus lived on earth and the fact that He had (and we all still have) "miles" to cover while on this planet, 33Miles unashamedly debuts as the "Christian" Rascal Flatts. This may be too bland for some, but for what it does, this trio often hits the mark.
Individually, each group member has achieved success as a vocalist, musician and/or songwriter. Internally that experience makes for a deft blend of talent and energy that is enhanced by notable contributors such as producers Nathan Nockels (Watermark, Passion) and Sam Mizell (Jessie Daniels, Matthew West) and co-writers Matthew West and MercyMe's Bart Millard.
And it all combines to deliver big, crisp songs brimming with simple, but endearing, messages of hope and encouragement. There is some country, some rock and quite a bit of pop as well. But most of all, there are enormous hooks, soaring melodies and impassioned vocals, which should connect far beyond any one genre.
Upbeat lead single, "What Could Be Better (The Days Ahead)," sets a solid foundation upon which additional tracks such as "There Is a God," "The Best Man" and pivotal ballad "Hold On" should easily build.
Based on its first lap, 33Miles is poised to go the distance.



© 2007 CCM Magazine. All rights reserved. Used with permission. Click here to try a free issue.