No Sparks on By the Tree's "Fire" Release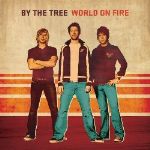 Artist:  By the Tree
Title:  "World on Fire"
Label:  Fervent Records
Fire is a pretty popular image these days. It's vivid and it grabs your attention. It stirs up feelings of warmth and comfort while simultaneously reminding us of danger and wildness.
With an untamed energy, fire can spread a passion for creativity and building while at the same time it can leave behind complete and utter destruction. For this reason, many people latch onto the imagery of fire when they try to describe God. God can bring about both life and death and His power cannot be controlled by mankind.
Pop worship trio, By the Tree, returned to the studio earlier this year with the hopes of capturing that image on their fifth album in as many years, "World on Fire." The title track encourages listeners to step up and grasp the fullness of life and set the world "on fire" with the gospel message that burns within them. Other songs talk about God's omnipresence and faithfulness ("All Around You"), the importance of seeking God in life ("I Will Follow You"), and share the gospel with others ("Shine"), but the bulk of the album offers worshipful lyrics to God. Though the worship songs clearly have good intentions, the lyrics fall into the trap of using clichés to relate common themes, leaving the listener with much to desire.
Though the album starts off with an upbeat effort at a rock sound, the overall sound of the album trends toward muddled pop with the occasional breath of rock guitars. The production is intentionally tailored to emote a feeling of rawness or edge, but it's clear that this intention has fallen short. What remains is a run of the mill musical outing that does little to evoke much of a response from the audience. Some of the highlights are actually the slower songs, such as "You Are My Desire" where the emotion actually feel genuine.
Those who have followed By the Tree through the years have been waiting for a suitable follow-up to the ambitious, energetic and engaging debut "Invade My Soul." Though this is their fourth release since, the group has once again failed to rekindle the flame of their first effort. "World on Fire" hardly sparks any interest and unfortunately fades into the mass of other modern pop worship albums.


© 2006 CMCentral.com.  All rights reserved.  Used with permission. 

Visit CMCentral.com now and join the single largest online community of Christian music fans on the internet.  CMCentral features  daily music news, exclusive interviews, album reviews, weekly devotions and feature articles written by some of your favorite Christian artists, and much more.  CMCentral is also the home of the most popular Forum for Christian music fans that you'll find anywhere on the Internet.  Come see what all the buzz is about!