On Latest Self-Titled Disc, Disciple's Never Sounded Better
Chris Well

2005

15 Jul

COMMENTS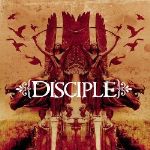 Artist:  Disciple
Title:  "Disciple"
Label:  S/R/E
Buckle your seatbelts, folks – Disciple is back! While so many bands grasp at whatever flavor of the month will make them "hip" or "relevant" for a season, the guys in Disciple are still pounding out what they do best: solid, muscular hard rock, with simple, sledgehammer lyrics about a life of faith.
The longtime three-piece – vocalist Kevin Young, guitarist Brad Noah and drummer Tim Barrett – is joined by newcomer Joey Fife on bass. Maybe it's the new blood, maybe it's that the other three have almost mind-melded through 10 years of working shoulder-to-shoulder, but the band has never sounded better. With producer Travis Wyrick (who co-wrote several songs), the band's S/R/E label debut, the eponymous "Disciple," is spring-loaded with fist-pumping anthems for Christian youth, including such winners as "The Wait Is Over" and "Rise Up."
There are also several songs that speak frankly about rocky times – including dashed hopes ("Into Black"), failed relationships ("Backstabber") and fighting the culture of celebrity ("Stripped Away") – but always point to a determination to survive, to thrive, to shout the name of "Jesus" against the storm. Each song is a veritable Bible study, with multiple Scripture references; some might scoff at such an approach, but Disciple works the ground so earnestly that even the most jaded observer has to give the band props.
Other highlights include the fast-driving "All We Have Is Now," which points out the emptiness of life without Jesus; "Be The Quiet," a desperate plea to a drowning soul to accept a helping hand; and "Tribute," which pays honor to the American soldiers who continue to risk their lives.
In all, "Disciple" is a solid collection of heartfelt lyrics matched to loud, melodic, head-banging rock & roll of the first order. Am I gushing? Sometimes that's all you can do.

© 2005 CCM Magazine.  All rights reserved.  Used with permission.  Click here to subscribe.