One to Watch: Aaron Sprinkle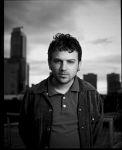 Aaron Sprinkle first made a name for himself in the '90s as a founding member of the band Poor Old Lu. Though his involvement with the group has continued over the years, most recently with the band's fifth album in 2002 ("The Waiting Room"), Sprinkle has also become a respected solo artist and producer, working with bands such as Kutless, Pedro the Lion and MxPx. His fourth solo album, "Lackluster" (Tooth & Nail), released in February.
CCM:  Was there anything unusual about your childhood?
Aaron:  I lived on a little island with no bridges, a 16 x 9-mile island called Vashon [in Washington]. It was a hippie, artsy community. My parents were hippies, so I grew up around that.
CCM:  How long have you been performing as a solo artist?
Aaron:  I really first started doing it around 1999. It was really weird at first because I'd never done that.
CCM:  What do you enjoy about producing versus the artist side of things?
Aaron: I've been recording at home and in studios since I was 16. The process of making a record is something I enjoy and have a good grasp on. Taking other people's material and making a record is really rewarding, and being able to be in that environment and work with other Christians who are like-minded is a perfect situation for me personally. Knowing the records I'm doing are going to, God willing, touch people and bring them closer to God is really, really cool.
CCM:  So, what's behind the album title, "Lackluster"?
Aaron:  It started out as a joke, honestly. One of the things I like to do is give people who review my records a chance to use the album title negatively in the review. I also like that word, how it sounds and looks; and it's kind of an inside joke with my friends. The meaning is that life can feel lackluster. Even the best day on Earth is lackluster compared to heaven.
CCM:  What's up with the fish on the album cover?
Aaron:  I really like fishing. That's why my friend Ryan, who did the artwork, put a fish on the cover.

© 2004 CCM Magazine.  All rights reserved.  Used with permission.  Click here to subscribe.