One to Watch: Everman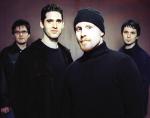 Everman derives its name from one of the tiny Texas towns, where the guys first started playing for kids at community centers. That dedication and the chemistry between front members Brad Miles and Marcus Yoars (who claim to have been separated at birth) helped this foursome land the coveted spot as Beatmart Recording's flagship artist. Now, CCM talks with Brad about the band's mission.

CCM: You're from Texas, while Yoars grew up in Hong Kong. How have those varying backgrounds had an impact on your songwriting?

Brad: The use of traditional Chinese instruments in our songs is an obvious example. Just kidding. Honestly, I think we write and perform with a reckless abandon that comes from those experiences. Marcus has this gypsy mentality from growing up as a missionary kid. He's ready to blindly follow God wherever He leads. Our music reflects that "no-holds-barred" approach to life. We're not afraid to talk about our shortcomings or to bare our emotions.

CCM: What other careers have you tried?

Brad: I was the worst maintenance man in the history of maintenance at Hardin-Simmons University in Abilene, Texas. I was the assistant manager for customer service at Bill Heard Chevrolet. I was also a youth minister for a while. In fact, if I wasn't doing this I would probably be on staff at a church. Marcus has done some cool stuff. He co-wrote a book, edited study Bibles and was the managing editor for Christian Single. You can tell who the smart one is in our group.

CCM: You've also had some rare performance opportunities.

Brad: We got to play at the penitentiary here in Nashville. The amazing thing about doing something like that is you always think about how you're going to minister to these people, but instead, you come away completely challenged. I know guys in prison who know more about freedom than I do. A person who "found God" at the end of a desperate search, who blatantly acknowledges a need for redemption, always teaches me what Christianity is really about.

Used by permission.  CCM Magazine © 2003  Click here to subscribe.